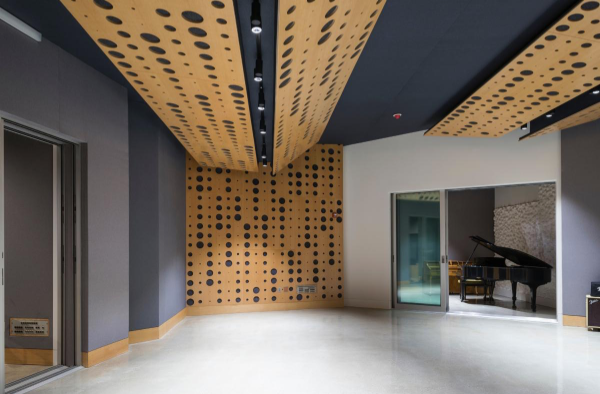 Elbo Studios Implements Nugen Audio For Wide Array Of Music And Film Scoring Projects
MikesGig is supported by its audience. When you purchase through links on our site, we may earn an affiliate commission. Read the full disclosure HERE.
Co-Owner Chris Fogel Utilizes Brand's Halo Upmix, Monofilter, and Stereoizer Software for Several High-Profile Streaming Productions
Like many people with a musical background, multi-award-winning Recording and Mixing Engineer Chris Fogel, CAS, made the jump from playing instruments to working behind-the-scenes. A trumpet player by training, Fogel has spent more than two decades recording and mixing music for high-profile musicians, films and television projects alike. Most recently, Fogel worked on the scores for The Mandalorian, Tenet and A Beautiful Day in the Neighborhood; portions of season eight of Games of Thrones, as well as music by Alanis Morissette, Childish Gambino and many others, from ELBO Studios, of which he is co-owner. To ensure his sound meets the standards of such high-caliber productions, Fogel turns to NUGEN Audio's Halo Upmix, Monofilter and Stereoizer plug-ins.
"I probably use Halo Upmix the most of all the NUGEN software that I own," says Fogel. "I originally started using it on recommendation from a colleague in London, and I just truly love the plug-in. I like how much control it gives you for LFE, phantom center and width. It also creates a nice multi-channel stem without affecting the core integrity of the sound that I am trying to upmix, and that's most important. There are other solutions out there that claim to do the same thing, but they can't handle surround formats very well, and they really mess with the mid-range of the frequency spectrum or the imaging. Of all the similar plug-ins, NUGEN's Halo Upmix is the best one."
NUGEN also makes it possible for Fogel to deliver projects in a wide variety of formats, which has proven especially beneficial. "I am often provided with a lot of married audio in stereo that needs to be delivered in a multi-channel format for 5.1 or 7.1 surround formats, and that's where Upmix is very helpful," he says. "For example, with The Mandalorian, which just wrapped Season 2, I was provided with many stereo stems that I had to get up to 5.1 to meet streaming standards. Other times, I have to create a quad package, and for that I usually turn to Stereoizer and Monofilter to split the stereo and the surrounds out. This allows me to get control over my width, imaging and punch."