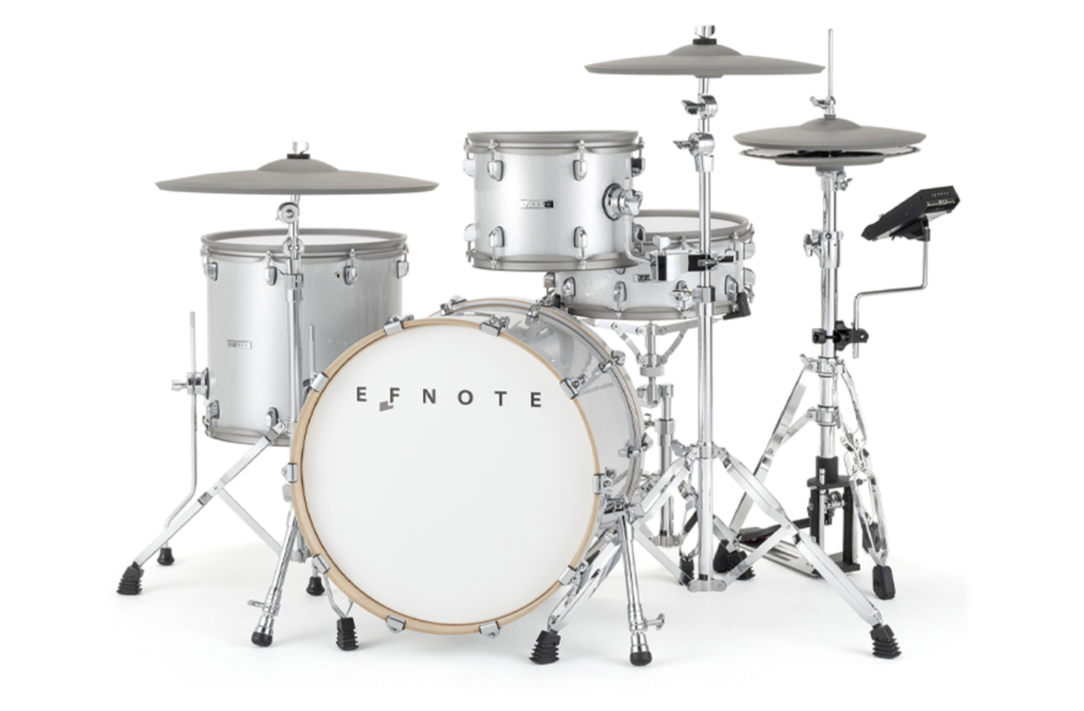 EFNOTE 7 Electronic Drums Released by Artesia Pro
MikesGig is supported by its audience. When you purchase through links on our site, we may earn an affiliate commission. Read the full disclosure HERE.
The first, full-scale, technologically superior e-drum kit; a true drum collector's dream
Artesia Pro is excited to announce the release of their much anticipated, flagship electronic drum set, the EFNOTE 7. Flaunting the only 20" Ride cymbal in the world, the EFD7 is coming out of the gate in high demand, for drummers as well as multi-instrumentalists, composers and music producers! EFD7's unparalleled sensitivity, depth and precision comes from EFNOTE's ever-evolving ELISE™ Sensing Chip, combined with precisely recorded drum samples (using their Tru-Aco™ sound technology), offering a one-of-a-kind experience for players from expert-level to novice. EFD7 uses full-scale shells/cymbals and drum components to provide the most physically realistic playing experience. The aforementioned 20" ride, 14" hi hats and 16" crash all have 3 Zone/360° crash and choke capabilities and are rounded out by a 14" 3-zone snare w/ dedicated side rim channel, 15 x 15" floor tom, 11 x 8″ rack tom (both w/ rim zones) and 20×15″ kick. Users will soon be able to do Custom Expansion on their kits, making the EFNOTE 7 superb for professional recordings, gigs and educational training. EFD7 offers flexible routing options, including 8ch USB audio over 16ch USB MIDI I/O simultaneously, 2ch and 4ch analog I/O, 5 PIN DIN MIDI, as well as 8 types of reverb, sound editing, Bluetooth® I/O and much, much more. EFD7 is Mac/PC compatible, and is now available in North America for just $3,999 USD at any of Artesia Pro's Authorized Dealers!
Video: Michael Bedard, EFNOTE's Drum Expert, on EFNOTE 7 electronic drums full sound demo:

EFNOTE 7: Full-Scale POWER
EFNOTE DRUMS uncompromising pursuit to offer the most realistic sounding electronic drums while retaining the playability of an acoustic set delivers the beauty of sound, appearance and authentic presence on stage and in the studio with EFNOTE 7. With over 20 years of R&D from the world's best electronic drum engineers, EFNOTE 7 gives drummers a whole new experience with the overwhelmingly realistic touch of full-scale drum components, with a brilliant drum sound library remastered to match them perfectly.
Collector's and Vintage Drums Tru-Aco™ – Recorded and Re-mastered to Perfection
The EFNOTE 7 comes with meticulously recorded collector's drum sets and have been mastered carefully with minimal processing. The Tru-Aco™ sound technology brings out the full texture and life of classics from the most coveted collectors' sets, based on Gretsch®, Ludwig®, Slingerland®, Yamaha®, Noble & Cooley®, Zildjian®, Sabian®, Meinl® and more.
EFNOTE 7, Technology for musicians at its finest: Perfect Playability
The EFNOTE engineers employed the Ever-Evolving ELISE™ Sensing Chip technology for EFNOTE 7, which improves day by day, for capturing fine rolls and soft strokes to triple forte, and nuanced footwork. EFNOTE 7's Advanced Sensing Structure optimizes the sensory design to even out the sensitivity and convey the player's intention and dynamics without deterioration. Thanks to the remarkable Tru-Motion™ multi-optical-sensor technology (patent pending), ultra-high precision gap detection and unlimited free movement of top/bottom cymbals and hi-hats are the new standard in electronic drums. The result is perfect playability.
EFNOTE 7 Drums full scale collectors' dream – Synergy, Authenticity and Proportion
The EFNOTE 7 sparkles with authenticity, offering a 20 x 15″ kick drum and 14 x 5.5″ snare drum with a smooth, white glitter finish that shines brightly on stage. 14" real hi-hats, 15 x 15″ floor tom with "True Rebound" and an unparalleled 20″ ride cymbal.
Feeling and hearing is believing, and drummers will experience "True Low-Rebound", a unique rebound of the acoustic floor tom that deadens stick strokes, and is achieved by the new 15 x 15″ floor tom. The EFNOTE 7's depth-caliber ratio was precisely designed to create synergy between sound, sight and feel. EFNOTE's uncompromising pursuit of this resulted in a customized 11 x 8″ rack tom and the 15 x 15″ floor tom.
The new 14 x 5.5″ snare drum's added multi-sensors are exclusively optimized to respond to your most dynamic touch. 10 lugs also allow for high head tension and larger side rims to ensure unprecedented comfort.
The Ultimate 20″ Ride diameter produces a slow wobble toward the edge while having quick response at the bow/cup zones. This cymbal is special and has a natural bounce that just feels great!
Expandable, Customizable and Bluetooth®
EFNOTE offers a comprehensive range of optional components as a drum brand. All optional components have the same design language and are fully software compatible. Bluetooth® audio-in provides the ability to play along with Spotify™ and YouTube™ from any smartphone.
Specifications and Features:
Training features:
Multi-function metronome with beat LED indicator
Built-in metronome speaker for daily training without headphones
On-board recording function (15 songs)
Stroke Analyzer – "Stroke Scope" displays the player's strike points on timeline
Accuracy Score – estimates strike accuracy
Rhythm Box feature provides over 90 basic drum beats
For Recording:
USB 8-ch individual audio outputs with Mac / Windows (ASIO)
USB 2-ch audio inputs for playback
Analog 4-ch audio outputs
USB MIDI in/out with 16 individual MIDI channels for VST
MIDI output (5-pin DIN)
On-board drum recording (15 songs)
For Gigs:

Setlist feature enables configuration of kit order with tempo for each song
2 or 4 CH analog outputs
Click and Audio-In can be assigned for headphones
High-power headphones output
MIDI output (5-pin DIN)
Sounds, Editing and Flexible Routing:
Tuning, Muffling, 2-band EQs for each pad
Pad layer function features two sound overlays
User Instrument Library storage for 128 customized instruments
8 types of on-board reverb
Dedicated level control screen
Flexible Audio Routing
10-ch output buses
Flexible output routing for each pad
Output assignable click
Output: 4-ch analog / 8-ch USB
Input: Analog / Bluetooth / 2-ch USB
Bluetooth® MIDI
Price and Availability:
The EFNOTE 7 full-scale, electronic drum kit is currently available from Artesia Pro and their network of dealers for just for $4,599 MSRP & $3,999 MAP.
For more information about the EFNOTE 7 e-drum kit, please visit: https://artesia-pro.com/products/efnote-7/
For a full list of dealers in your area, please visit: https://artesia-pro.com/efnote-dealers/