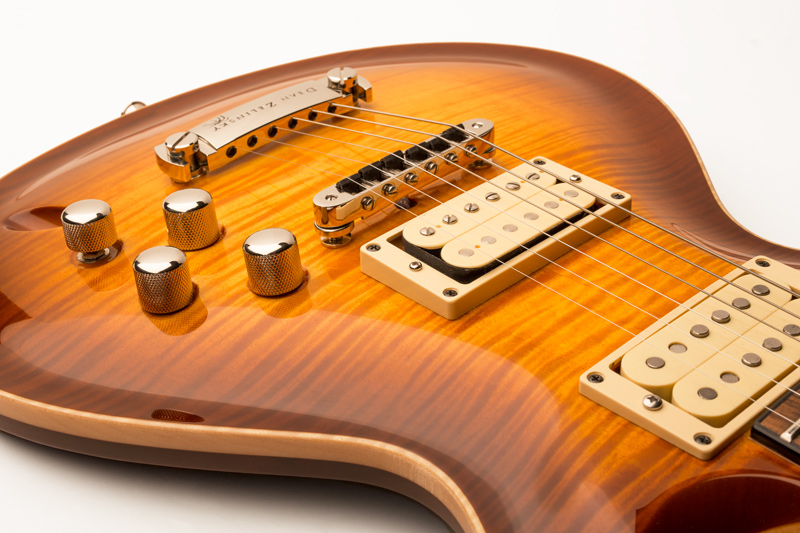 Dean Zelinsky Guitars Debuts The LaVoce
MikesGig is supported by its audience. When you purchase through links on our site, we may earn an affiliate commission. Read the full disclosure HERE.
World's First Working Musician's Guitar Achieves Classic Single-Coil, Classic Humbucking, And Stage Acoustic Tones – in a Single Guitar
Chicago, IL April 15, 2015 – Dean Zelinsky Guitars announced today the debut of the LaVoce, the latest model designed by master guitar builder, Dean B. Zelinsky. Sold exclusively through the company's website www.deanzelinsky.com, the LaVoce was designed to solve several issues that most every working guitar player experiences. Primarily having to carry multiple guitars to a gig, one for the humbucking tones, one for single-coil sounds, and yet another for acoustic songs. Zelinsky has come up with a guitar that literally satisfies all these needs. The company is billing the LaVoce as the World's First Working Musician's Guitar, the only guitar a player needs to bring to any gig, live or in the studio.
The LaVoce comes with an exclusive 5-Pickup System. Utilizing Zelinsky's new SideKick pickup technology, which puts a true single-coil and humbucker in the same space, the LaVoce offers more meaningful tones than any other guitar on the market. This guitar achieves true vintage single-coil tones and true humbucking tones. The high-fidelity Piezo-Bridge Pickup completes the Working Musician's Concept by achieving great stage-acoustic tones. When blending the Piezo system with the other pickups, this gentle giant fills an auditorium with sound.
The LaVoce is ultra-thin, lightweight, and easy to travel. The thickness at the edge of the custom carved, maple-topped mahogany body is only about ½ inch. With the LaVoce weighing in at just 7 lbs., a player can go all night without getting shoulder fatigue. To top it off, the LaVoce includes Zelinsky's patented Z-GlideTM Reduced Friction Neck, making this sonic gem truly effortless to play.
"For this to be for working musicians, it needed to be affordable," Zelinsky stated. "I priced the LaVoce from $787.00, and to make it more obtainable, we offer easy monthly payments (as low as $73/month at www.deanzelinsky.com)."
LaVoce translated means The Voice. "I chose this name because this guitar has so many voices; not just sounds…but individual, unique, guitar voices. Everyone can appreciate the tone of a killer single-coil, a vintage humbucker, a cutting hot humbucker, and a high fidelity acoustic pickup," added Zelinsky.
Versatility and Simplicity are key words that describe the LaVoce. Versatility, because this single guitar does it all. Simplicity, because Zelinsky has a great disdain for guitars loaded with knobs and switches. The LaVoce had to look like a 'classic' (with a couple pickups and four knobs), to make the lineup in Zelinsky's new brand. "I built the LaVoce like a classic [sleeper] muscle car of the 70's…looks stock, but a whole lot more going on under the hood," concluded Zelinsky.
Dean Zelinsky will be personally signing and numbering his first 100 LaVoce guitars. Each will be delivered with a signed Certificate of Authenticity. More info at www.deanzelinsky.com.