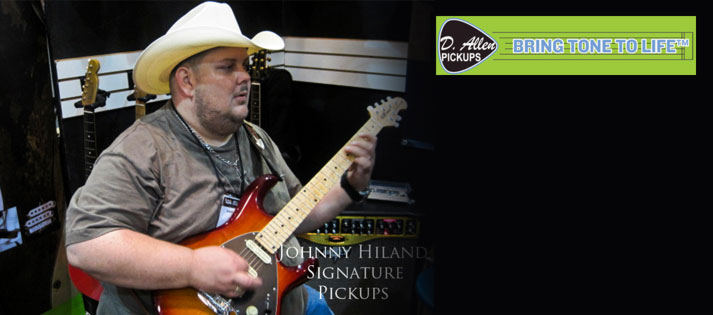 David Allen Pickups at NAMM 2012 Johnny Hiland Signature Series
Pickups Built Using the Finest Materials on Earth – and a Lotta Mojo. Featuring Johnny Hiland Signature Series Johnny Blade pickups.
MikesGig is supported by its audience. When you purchase through links on our site, we may earn an affiliate commission. Read the full disclosure HERE.
Pickups Built Using the Finest Materials on Earth – and a Lotta Mojo
So here it was, the 4th and final day NAMM 2012. I arrived early that morning to get a good seat at the NAMM U Breakfast. By happenstance, and a little mis-direction, I was put on the right path to meet David Allen and his friend Billy Rowe of Rock N' Roll Relics. In the 10 minute walk around the Anaheim Convention Center to the Hilton David gave me the lowdown on his unique brand of pickups that are created from an alchemy of cold rolled steel, maple wood and modern day engineering.
David's story has a common thread that I've heard many times over the past several years from people starting new businesses. His employer, a mobile satellite and radio networks company, was imposing a forced job relocation. Not wanting to move his family to a different state, he chose to turn his years of part-time pickup tinkering into a full-time business.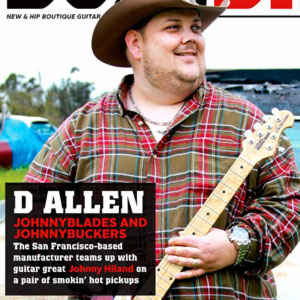 In 2011 David got the attention of Johnny Hiland and collaborated with him on the development the Signature Series Johnny Blade dual blade pickups. These pickups deliver an "expanded tonal range", says David, and took many months and revisions before the final formula was approved by Hiland's discerning ear. "We work on it until we get it right."
The other line that David launched at this NAMM were the Vintage Plus Series.  "They're not just a vintage replication – we add to the tonal range. We want to keep those highs glassy, and not go harsh and brittle, and we want to keep a tight, focused bass." I played a Rock N' Roll Relic Strat, a guitar built for Glen Campbell, outfitted with these pickups and they sound exactly as described by the designer. David Allen Pickups makes pickups for the most popular guitar and bass configurations and they are all handmade in their shop in San Bruno, California. Be sure to put them on your short list. I know I am.