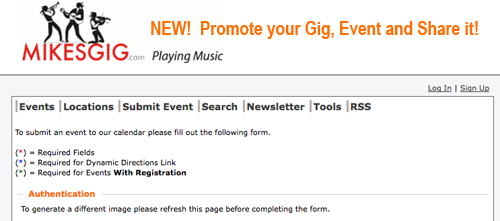 Create Your Concert Listing Account–All New
Announcing the New Events Calendar for Musicians.
MikesGig is supported by its audience. When you purchase through links on our site, we may earn an affiliate commission. Read the full disclosure HERE.
Announcing the New Events Calendar for Musicians.
Manage your own events
Manage your submissions
Post concert location with maps
Link your website
Use RSS to promote
Newsletter: Concert calendar at mikesgig.com newsletters include our latest events, updates and announcements keeping you informed and up-to-date.
Customize your newsletter preferences to receive your own unique newsletter. Change your mind? Want to try something new? No problem, you can edit your subscription here any time.
Become a member: As a member of MikesGig.com you can now promote your gig, event, concert, school band, conference, recital, etc.
You can promote and share your event by:
e-mail
Social Media Networks like facebook, twitter and more.
Be sure to sign-up your group name. For example, your address can be "mikesgig/band name". Keep in mind that this is on a first come first serve basis. So start saving your name now. See Rules about "parking"
RSS Feedback: We welcome you to use the feeds made available here both via readers and site syndication. If you publish free concert calendar at mikesgig.com content via our RSS feeds, please provide attribution and a link back to our site.
All rights to our content are reserved.
If you have questions about our RSS feeds, or their acceptable use please contact us.
Rules:
Your activity of events listing is monitored. Parking or reserving names without any activity will be notified 3 times. A final notice of  "zero activity" will be sent to you via e-mail. Mikesgig will then have the right to remove that "user name" and release it to other users.