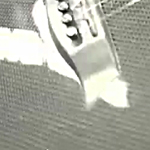 Composite Acoustics at NAMM 2009
MikesGig is supported by its audience. When you purchase through links on our site, we may earn an affiliate commission. Read the full disclosure HERE.
Ellis Seal of Composite Acoustics (CA) gave us the rundown on his fine instruments. Developed in his garage as a hobby while working with composite materials at Lockheed Aerospace, he started the company in 1997 when his division was laid off. The guitars play great and CA claims that they are unaffected by extreme weather changes, (cold, heat and humidity) – though the strings and metal parts might rust – since they are made almost 100% from carbon fiber. There are several models to choose from including; traditional dreadnought styles, thin lines, and unique off-center sound hole guitars.