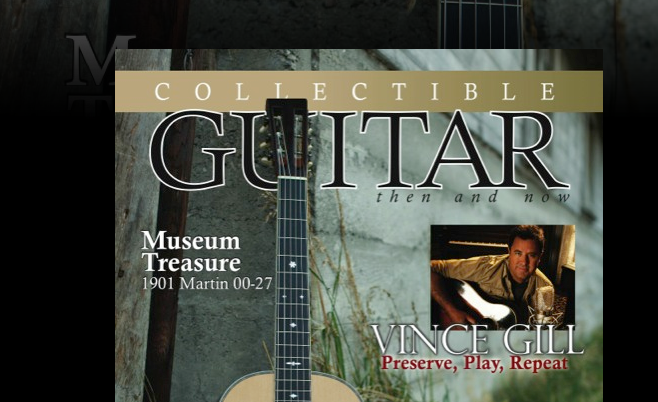 Collectible Guitar Magazine Debuts with Vince Gill Cover Story
MikesGig is supported by its audience. When you purchase through links on our site, we may earn an affiliate commission. Read the full disclosure HERE.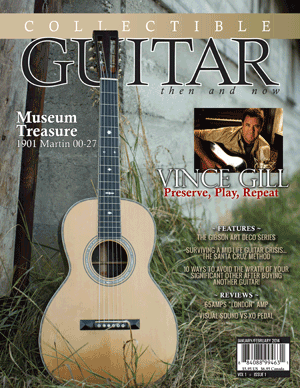 The Adolph Agency is launching Collectible Guitar- Then and Now magazine and CollectibleGuitar.com. The magazine focuses on both vintage and new boutique guitars, amps and effect pedals and debuted at NAMM this past January.  The new publication is now available at fine music stores including all 258 Guitar Center retail outlets. As Bruce Adolph, President and Editor explained "our passion is all things guitar…from vintage to new, then and now."
Aimed at anyone interested in learning more about guitars, Collectible Guitars –Then and Now strives to reach beyond expensive price tags and get into the history and personal stories behind the gear. The debut issue features a three page interview with guitar legend Vince Gill talking about a cherished Fender Tele, a Fender Strat, A Gibson ES-335 and three Martin acoustics that mean more to him than any price tag ever could. Additional segments will include product reviews, profiles on accomplished guitarists and luthiers, guitar shows, and historic guitars and how they impacted the world of modern music.
The magazine is a natural progression for Adolph. Since the age of 14, he has had a passion for guitars and for the past 30 plus years, he has worked inside the industry. He started his career running a music store in Los Angeles for 11 years. The store experience lead him to launching Christian Musician magazine and then Worship Musician magazine. Recently becoming the owner of the long running SeaTac Guitar Show, the new magazine seemed like a logical step. The focus will be a practical approach and journey to walk together with its readers to learn more about vintage and boutique guitars, amps, pedals and guitar personalities.
In addition to single newsstand copies at $5.95 USD, the magazine offers annual subscriptions of $19.95 for six issues directly at www.CollectibleGuitar.com
For a limited time get a free set of guitar strings with your subscription.