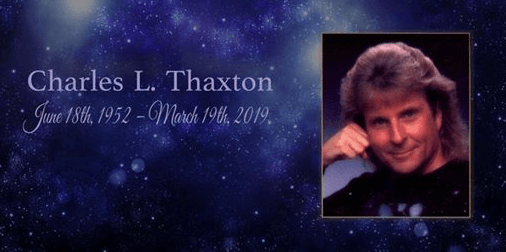 Charles Thaxton, aka Char-el, Dead At 66
MikesGig is supported by its audience. When you purchase through links on our site, we may earn an affiliate commission. Read the full disclosure HERE.
Charles L. Thaxton Jr. (aka Char-El), 66, of Cambria, California, formerly of Fostoria, Ohio, passed away Tuesday March 19th, 2019. Charles was born June 18, 1952 to the late Charles L. and Lillian Thaxton of Fostoria, Ohio. He graduated Fostoria High School in 1970 and married his beloved Stefani June Thaxton on February 27, 2019. A lover of complex musical compositions, Charles began playing the keyboards in high school and in 1969, began to perform with numerous Ohio-area rock bands including Stargate, Magik Dayze, and Dayz'd Past. In 1978, Magik Dayze released their first album, self-titled, which featured Charles on keys. His song "To the Stars" was a fan favorite and often used as the finale at Magik Dayze concerts.
Charles migrated to the West Coast in 1979 to play with Magik Dayze in concerts and clubs in and around Los Angeles, eventually performing in 25 states. Charles and the Magik Duck Band, their self-described nickname, performed at many venues in California including the Troubador and Starwood and recorded two unreleased albums at IAM and Katherine Drive. Sunset horizons called him to Phoenix, Arizona in 1981 and he went on to play for eight years in the desert southwest, from Tucson to Sedona, Arizona, in concerts with such top Arizona artists as Voyager, Lynn Linton, R. Carlos Nakai, William Eaton, Galileo and Paradox. He appeared on two 1987 Voyager releases: Sound Dreams and Contact, which were featured on such shows as the nationally syndicated Music from the Hearts of Space. He also began composing original material in the New Age/Ambient genre about that time under the name Char-El.
Family duties brought Charles back to Ohio in late 1989, where he managed area health food and vitamin shops while continuing to do his solo music projects, and perform at various concerts, film festivals, and churches. He reunited with several early-career band mates to form Dayz'd Past in 2000. In 2001 and 2002, Charles was invited to play at the Roswell, New Mexico, annual UFO Festival, where he performed with some old band mates from his Arizona years. During this period Charles also linked up with fellow Magik Dayze bandmates Robin Evans and Douglas Bonnell on their individual studio projects.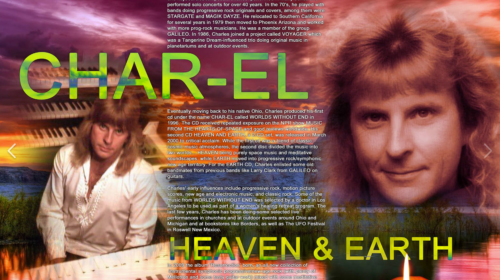 He released four CDs of original music, starting in 1996, under the name Char-El: Worlds Without End, 1996; Heaven and Earth, 2000; Resurrection, 2009; The Healing, 2013; and contributed to albums by Douglas Blue Feather and Larry Clark. A true creator of "Sound Paintings" or "Sonic Landscapes", Charles believed that music can be used in an inspiring and healing way to ease stress and tension and stimulate spiritual growth.