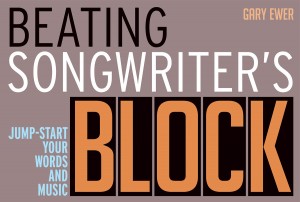 Backbeat Books Publishes Beating Songwriter's Block
MikesGig is supported by its audience. When you purchase through links on our site, we may earn an affiliate commission. Read the full disclosure HERE.
Jump-start your Words and Music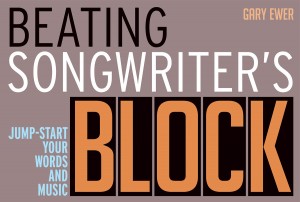 Writing music gives musicians a kind of pleasure that simply playing it cannot. Songwriters experience a deep sense of satisfaction and pride when they create original songs.  However, many will eventually get to a point of frustration where writing songs has gone from being a love to being an aggravation: songwriter's block. This phenomenon is a well-known problem among all musicians. Some talk about it, others don't, but it's there, and it can be devastating.
Gary Ewer, the author of Beating Songwriter's Block , has seen top-level musicians suffer from writer's block, and the utter lack of confidence that it brings to the afflicted. This has led him to explore the subject further, and he has identified several possible causes and levels of severity. He developed a winning strategy outlined in Beating Songwriter's Block that will lead the songwriter back to writing confidently and successfully once again.
"I have two intentions with this book: to cure the writer's block you're experiencing right now, and to make sure it never comes back," Ewer says.
Chapter by chapter, this book addresses likely causes of songwriter's block and presents solutions to each scenario, both for hobbyists and professional songwriters alike. It helps the reader develop a songwriting schedule, set songwriting targets that make sense, and deal with debilitating fear. And, very importantly, it helps the reader more fully understand the nature of good music by showing what each section of a song is meant to do, from intro to outro. Included are songwriting exercises that will help break the melody and lyric logjam.
About the Author:
Gary Ewer is a composer, arranger, and music educator who has worked with bands, choirs, and orchestras from his base in Nova Scotia, Canada. He has also built up a considerable online following through his acclaimed songwriting blog, garyewer.wordpress.com , and a range of e-books.
Beating Songwriter's Block – available online and in stores after March 15
$24.99 (US)
Inventory #HL 00333749
ISBN: 9781617131028
Width: 10.0″, Length: 6.5″, 160 pages