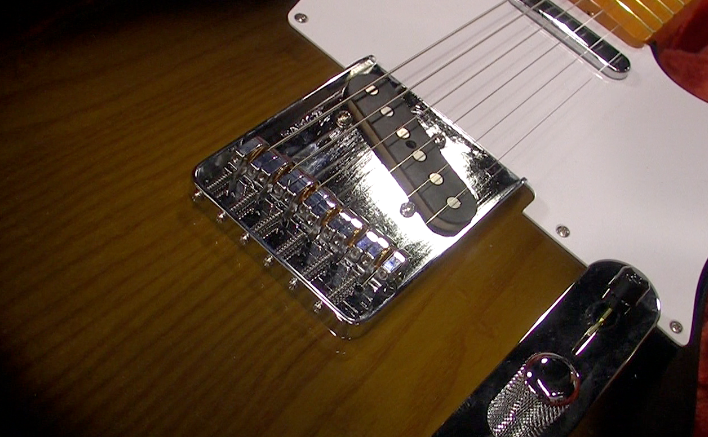 Babicz Full Contact Ashtray Telecaster Bridge at NAMM 2020
MikesGig is supported by its audience. When you purchase through links on our site, we may earn an affiliate commission. Read the full disclosure HERE.
Jeff Babicz previewed his new "ashtray" style Telecaster bridge at NAMM 2020 for the guys who want a more vintage vibe version of the Babicz Full Contact bridge.
Available later in 2020 in milled steel or milled aluminum, this bridge is sure to be another popular addition to the Babicz Full Contact Bridge line.
About Full Contact Hardware
In 2008, through years of design refinements, Jeff Babicz officially introduced The Babicz Design "Full Contact Hardware", featuring the patented "eCAM" (short for "encapsulated cam") saddle design for electric guitars and basses. The FCH bridges offer a dramatic improvement in sustain and tonal quality achieved by eliminating any gaps or voids between the bottom of the bridge saddles and the body of the guitar or bass, as seen in the diagram below.
With FCH, string height or "action" can now be set with more precision. The "eCAM" saddle allows for instant "action" adjustments without ever adding space or air gaps between the saddle and the body of the guitar, and conventional string height action adjustment set screws are eliminated. With the Babicz FCH design, the bridge saddle can never "sink" or "shift" while playing. Each FCH eCAM saddle also includes a specially designed "String Height Lock" feature, which keeps your string height setting in place…even during extreme saddle vibrations over time. Precise intonation adjustments are also easily attained and in most cases include a "Saddle Housing Lock" feature.
Where to buy: