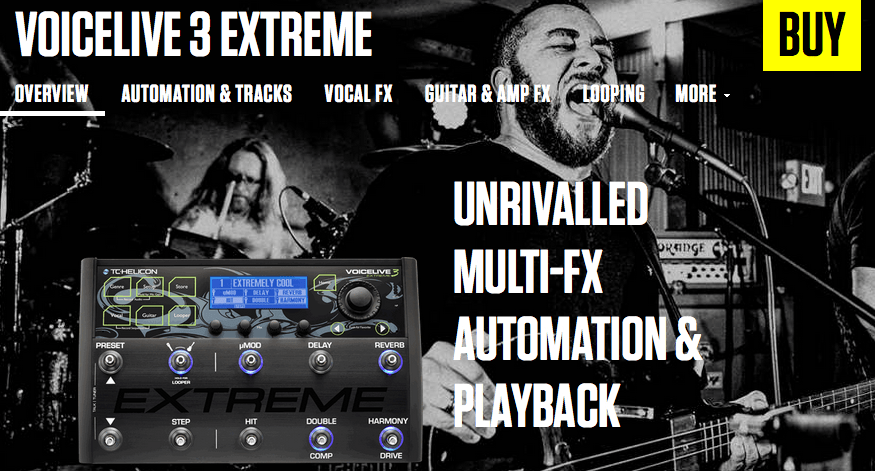 Absolute Performance Power: TC-Helicon announces VoiceLive 3 Extreme
MikesGig is supported by its audience. When you purchase through links on our site, we may earn an affiliate commission. Read the full disclosure HERE.
TC-Helicon is proud to present VoiceLive 3 Extreme – a powerful new version of their 2014 flagship processor, VoiceLive 3, which adds complete FX automation, backing track import and 24-bit audio recording.
When TC-Helicon introduced VoiceLive 3 in 2014, it heralded a revolution in processing for singers with the first combination of truly professional vocal and guitar FX in one box. With VoiceLive 3 Extreme (VL3X), the bar is set even higher!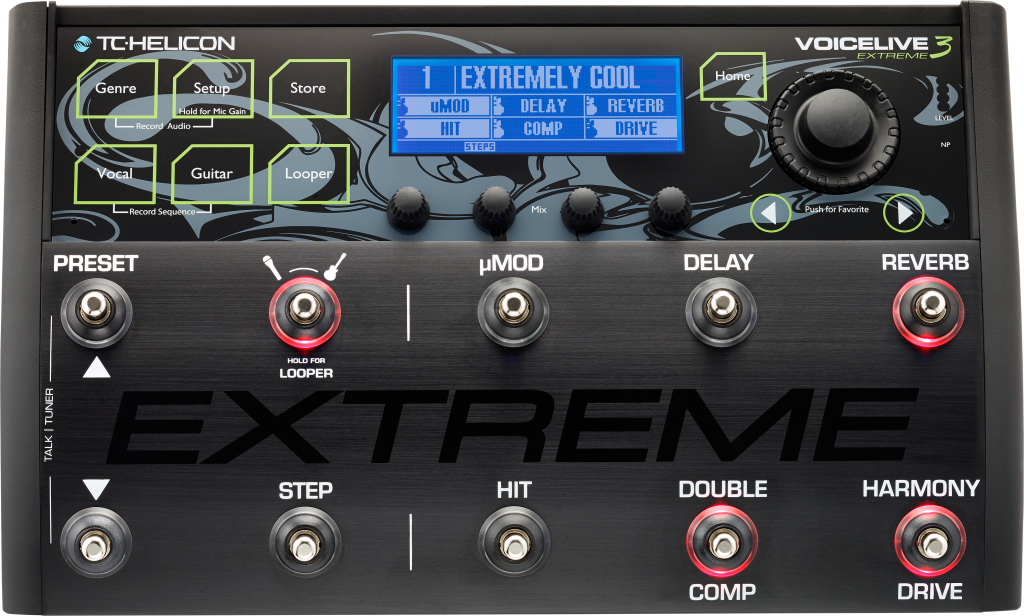 Much more than a simple upgrade, VL3X has 4 times the built-in memory for loops and adds backing-track storage. With a groundbreaking FX automation feature, all synchronized to the audio, VL3X offers creative performers and singers complete freedom to connect and interact with their audiences – while complex vocal and guitar FX changes run effortlessly by themselves.
Add to that 24-bit stereo recording via a connected USB flash drive, along with import/export of loops and backing tracks via USB and VL3X becomes the one essential product for any singing musician who wants to take his/her performance to an new level of sound and control.
Main Features
– Complete professional vocal and guitar FX paths, with next-gen Harmony processing and TC Electronic TonePrint sounds
– 4x internal memory of VoiceLive 3 with USB import/export of loops
– Backing-track import with fully synchronized FX automation and recall per preset
– Performance Recorder allows live 24-bit audio recording to a USB flash drive.
– Powerful 3-phrase looping lets you create and store entire songs on-the-fly
Price:  $799.99 US Estimated Price / £589 UK SSP / 799 € EUR SSP
COMPLETE OVERVIEW
Tracks and Automation
If VoiceLive® products are the stepping-stone to studio perfection in live performance; VoiceLive 3 Extreme (VL3X) is the one completing the journey.
It all starts in rehearsal with loading up a backing track. Whether it's just drums, bass, or a full band mix-down, VL3X lets performers capture all their FX changes synced to the track; harmonies, delays, guitar FX, anything they can think of. They can even record speedy FX changes that would otherwise be physically impossible using the switches alone.
On stage is where the magic happens. Simply pressing play on VL3X and their tracks plays back with all the FX changes that were perfected at home, completely automated for the show. The performers are free to connect with their audience and anyone around them. All that hard work they did before the gig – making their songs sound just right – is heard every time they perform.
– Up to 100 audio backing tracks can be loaded for live accompaniment via a standard USB drive
– MP3 and 16/24 bit WAV import formats supported
– Onboard sequencer records and plays back FX and Step activations live
– Backing tracks/sequences load quickly via associated presets
– Icon-based play/record/editing interface and waveform display
Studio Quality Audio Recording
The inspiration that follows from carefully planning songs with backing tracks and FX sequencing is beautifully matched by the onboard audio recorder that allows users to capture everything they do in glorious 24-bit quality. They can record every live performance, every home practice, all with professional studio fidelity and effects – both vocal and guitar. It's the perfect way to turn touring into EP material or late night jams into SoundCloud gold. It's all possible with just a bit of talent, VL3X and a USB flash drive.
Professional Vocal FX
With an unparalleled vocal effects path featuring 11 independent effects blocks,  over 180 different styles, and 250 factory presets available right out of the box (and 1000+ more available for free download), VL3X represents the absolute pinnacle of singer's technology.
– Exciting and unique Harmony sounds: choose from NaturalPlay, Scale, Pedal, Fixed, MIDI Notes or Mixed-Mode for expanded voicing and musical possibilities
– Authentic Vocoder with voice-controlled polyphonic synth and robot modes allow singers to play their voice like an instrument.
– Automatically and professionally produced vocal sound with enhanced Adaptive Tone™
– Improved suite of TC-Helicon's renowned vocal effects, e.g. Doubling, Harmony, Echo, Reverb, HardTune, Flanger, Chopper, Choir, and more
No-Compromise Guitar FX and Amp Tones
TC-Helicon's sister company is legendary guitar FX maker TC Electronic, and by including some of the most popular sounds from their TonePrint pedals like Flashback Delay, Hall of Fame Reverb, Corona Chorus, and Vortex Flanger the guitar section of VL3X is designed to rival even the most pristine pedal boards. Add to that the full gamut of great tone classics such as wah, octave, tremolo, and drive, and you've got an unbeatable guitar road kit.
– TC Electronic TonePrint FX styles from Flashback Delay, Hall of Fame Reverb, Corona Chorus, Vortex Flanger, and more
– Talk box, Chopper, Bass, Wah, and Drive guitar effects
– A wide choice of amp emulations from vintage British to classic American, when bringing one's own amp isn't practical
– BodyRez™ acoustic guitar processing restores the organic tone of electro-acoustics
– Guitar chords automatically guide vocal Harmony, HardTune, Synth and Vocoder effects
Building Better Songs with Loops
Featuring 4 times the storage of VoiceLive 3, VL3X enable users to store every loop snippet or idea they come up with, allowing for exciting real-time song creations and loop jams. The smart LoopAssist™ and metronome functions helps to make tighter loops effortlessly and auto-expand allowing for different loop lengths. Hours of looping time and infinite overdubs let users create entire album collections of songs – and store them for instant recall.
Dedicated I/O
What also makes VL3X an incredibly flexible performance system is the dedicated stereo vocal and stereo guitar amp outputs. Users can send their guitar sound directly to their favorite amp, completely independent of the vocal output going to the PA – it even works when looping!
On top of dedicated stereo PA and Guitar outputs, users have access to separate monitor and headphone mix outputs, with a monitor mix input. Also included are TC-Helicon's RoomSense™ microphones for controlling harmony and adding ambience to the monitor mix, as well as two control inputs for expression pedals or Switch-3/Switch-6.
Total Performance Control
VL3X is designed to empower the user in performance, giving them easy access to presets and sounds while providing complete customization of footswitch functions and deep edit control. The LAYER button allows users to switch between the Vocal, Guitar or Looper/Backing track control layers. Each layer provides instant access to layer-specific functions via the footswitches, with the LCD display showing a clear view of which footswitch controls what effect.