French Luthier Builds Fine Custom Basses Played by Yves Carbonne, Etienne MBappé
Sharing a booth with fellow Frenchman Sebastian Aquilina, Christian Noguera displayed some of the finest basses available at NAMM 2011. His design is superb and the attention to detail is impeccable. These basses play and sound as great as they look. Among the models I auditioned was the Vintage J60 – one of the nicest Jazz Bass recreations I've played.
The J60 captures the original and unique feeling of the pre CBS Jazz Basses. Many copies of Jazz Bass are available on the market but actually very few capture the characteristics of the 60's models that are  so prized for their sound.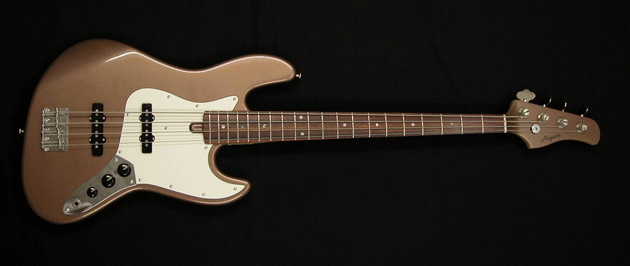 The maple neck has a round Laminate Brazilian rosewood fingerboard, radius 7.25″, like the original models, which affects the midrange in a particular way. The neck width and the fingerboard radius are identical to the original models.
The wood of this instrument is naturally dried and aged for many years to get the best sound. Having tested most of available J Bass pickups, Christian settled on the Hepcat pickups. Their sound is similar to 60s Jazz bass pickups with a good balance of bass and treble and no coloration in the midrange.
Many finishes are available, for more information contact Christian. To improve balance, the instrument can be equipped with Hipshot ultralite machine heads.
On the video Sebastien Aquilina introduces Christian Noguera and his model YC Yves Carbonne bass that was originally designed in 1998. The semi-acoustic fretless model features a mahogany hollow body (acoustic chamber) with spruce top. Piezo sensors inserted into the bridge saddles and a magnetic single coil recreate the sound of the wood.