This intimate outdoor amphitheater setting makes for a perfect summer concert
Bella Terra provides free concerts and events at their amphitheater in Huntington Beach all year round. Musical styles include: rock, jazz, blues, country (and western), classical, big band, ethnic, Christmas and more.  Check the Bella Terra page on our Concert Calendar for current information.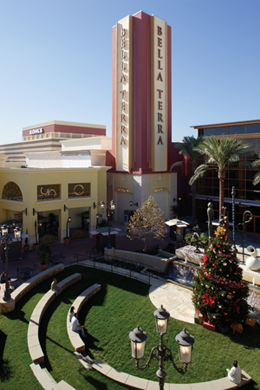 Bella Terra features local bands and rising stars of tomorrow including; Adam's Attic, Reunion, UK Beat, Jonathan Blake Salazar, Flipout, The Breakaways, Stan Zabek, Alturas, The Blues Odyssey and many more.
The Bella Terra outdoor mall in Huntington Beach is located at the intersection of Beach Blvd. and Edinger, just south of the 405 freeway. Construction for Bella Terra officially broke ground on April 22, 2004, occupying the footprint of the mostly shuttered Huntington Beach Center which opened in 1966. Located between the Westminster Mall to the North and South Coast Plaza to the South, the Center had many troubled years and eventually closed down in 2001.
[hungryfeed url="http://www.bellaterra-hb.com/?cat=5″]