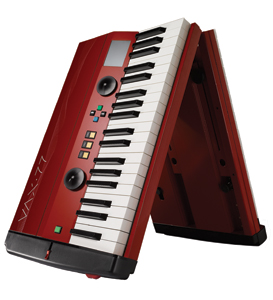 VAX-77 Midi Controller – Amazing Folding Keyboard
MikesGig is supported by its audience. When you purchase through links on our site, we may earn an affiliate commission. Read the full disclosure HERE.
Infinite Response Inc. – Austin, TX – infiniteresponse.com
2009 was the year for folding instruments at NAMM. There was a wonderful folding acoustic guitar and here we have an incredible folding keyboard. At least now keyboardists and guitarists can take there instruments as carry-ons. Make no mistake, this is not a toy like the roll up midi keyboard. This is a patented professional instrument with polyphonic aftertouch, constant force spring key action and midi all in a lightweight and durable titanium package. The VAX•77 is avaiable in 5 colors and 6 key weights. Glenn Chandler shows us how it works.