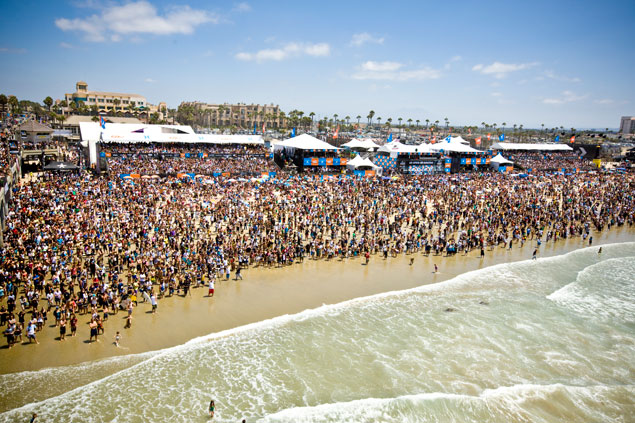 US Open of Surfing Free Concerts in Huntington Beach
MikesGig is supported by its audience. When you purchase through links on our site, we may earn an affiliate commission. Read the full disclosure HERE.
The largest beach party in the world kicks off on July 30 and runs through August 7, 2011. Last year the concerts were a huge success. The featured acts for the 2010 US Open of Surfing were; Iration, Bedouin Soundclash, Timmy Curran, Hot Hot Heat, Cobra Starship, Switchfoot and headliner on the final day was Weezer. By the last concert on Saturday the beach was wall to wall people on a hot sandy day with no where to escape but the ocean. This year 500,000 people are expected for the week of the event, so get ready for massive gridlock in Huntington Beach.
Huntington Beach, CA – The 2011 Nike US Open of Surfing has a soundtrack and it will play live on the beach before tens of thousands of fans. The event, owned and produced by IMG, the global leader in sports and entertainment, is taking a cue from its action sports roots, and set to deliver the largest free concert series of the summer.
"It's fun bringing some of the best musicians in the world to the US Open of Surfing," says Hurley's Director of Music and Entertainment Marketing Greg Teal. "It doesn't get much better than hearing your favorite band perform live on the beach."
This year's musical line-up is a representation of today's youth culture featuring headlining sets by pysch-pop rockers MGMT and platinum-selling rockers Jimmy Eat World.The series will also include sets by the most buzzed about names emerging on the music scene this year: Surfer Blood, Dead Country and The Sounds. "We're pretty excited to come to Huntington Beach for the US Open of Surfing. Our advice to everyone: Drop out with MGMT, drop by for MGMT, but just don't drop in on MGMT," said MGMT's Andrew VanWyngarden.
Known as the world's largest youth culture and action sports festival, the Nike US Open of Surfing will feature daily concerts Thursday through Saturday, August 4-6, at the conclusion of the surfing competition. All concerts are free and open to the public.
Music Schedule
Thursday, August 4      4:30-6:30pm    The Sounds featured with Walk The Walk
Friday, August 5         4:30-6:30pm     Jimmy Eat World preceded by Dead Country
Saturday, August 6     4:30-6:30pm     MGMT preceded by Surfer Blood
MGMT, Jimmy Eat World, Surfer Blood, The Sounds and Dead Country Scheduled to perform
\