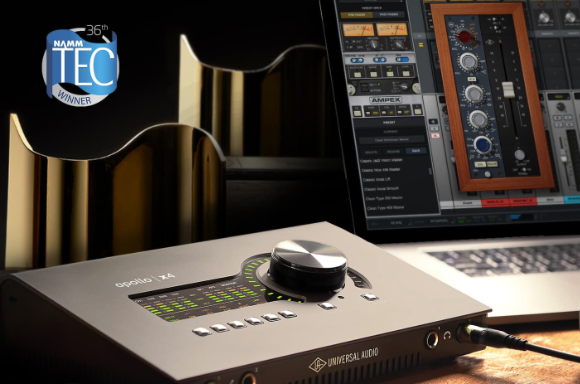 Universal Audio Wins TEC Awards for LUNA, Apollo x4, and UAD Neve 1084
MikesGig is supported by its audience. When you purchase through links on our site, we may earn an affiliate commission. Read the full disclosure HERE.
UA honored with a trio of Technical Excellence and Creativity Awards at 2021 NAMM Show
Universal Audio, a leading manufacturer of professional audio recording hardware and software, is proud to announce that LUNA Recording System, Apollo x4, and the UAD Neve® 1084 Preamp & EQ plug‑in have each won Technical Excellence and Creativity (TEC) Awards at the 2021 virtual NAMM Show.
Each year, the TEC Awards honor outstanding technical achievements in multiple sectors of the music industry. With hundreds of entries for nominations, voted on by a panel of veteran industry professionals in the U.S. and abroad, the TEC Awards are widely regarded as the highest honor dedicated to the pro audio and sound recording industry.
Apollo x4
Winner, Computer Audio Hardware
2021 marks the eighth consecutive year that an Apollo interface has taken home the TEC award in the Computer Audio Hardware category. Apollo x4, UA's latest X series desktop interface, boasts elite-class A/D and D/A conversion with four Unison‑enabled mic preamps and QUAD Core realtime UAD plug‑in processing.
LUNA Recording System
Winner, Workstation Technology/Recording Devices
Released in Spring 2020, LUNA Recording System takes home the TEC award in the coveted Workstation Technology category. With its deep Apollo integration, analog-inspired workflows, and growing suite of built-in sounds and extensions from Neve,® API,® Studer,® Moog,® and more, UA's first ever recording system ushers in a new era in music production, editing, and mixing.
Neve® 1084TM Preamp & EQ plug‑in
Winner, Signal Processing Software (Dynamics/EQ/Utilities)
A spot-on emulation of the coveted channel strip found in rare Neve 80-series consoles, the Neve 1084 Preamp & EQ plug‑in captures signature Neve warmth and extended EQ of one of Neve's most cherished circuits.