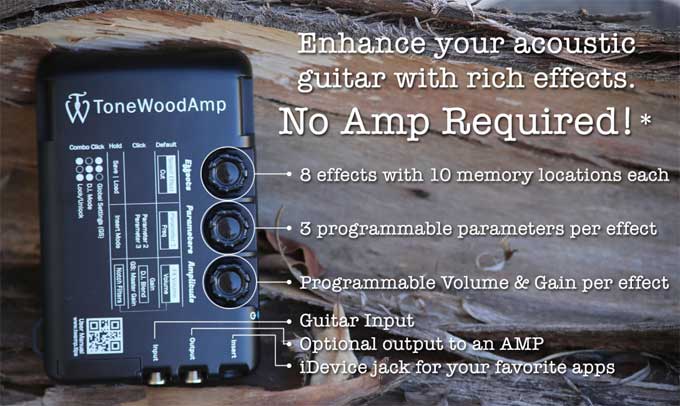 ToneWoodAmp SOLO Introduced at NAMM 2016
MikesGig is supported by its audience. When you purchase through links on our site, we may earn an affiliate commission. Read the full disclosure HERE.
The ToneWoodAmp SOLO is an electro-acoustic device that adds effects to an acoustic guitar (Reverb, Delay, Tremolo/Delay, Leslie style Tremolo, Auto-Wah and Overdrive) UNPLUGGED – with the effects emanating organically from the guitar's sound hole and body with no amp and no speaker. No holes to drill, no screws.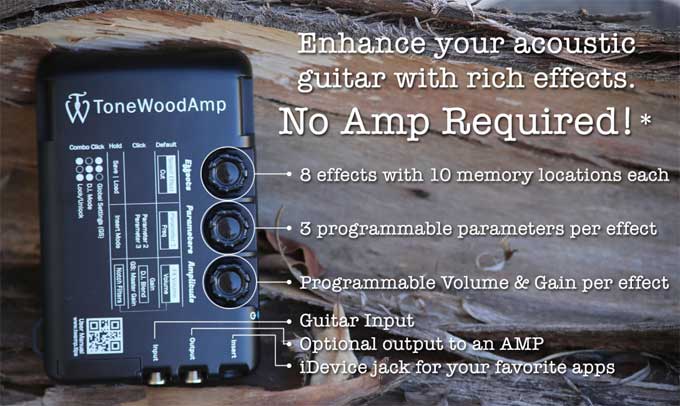 Late in the day on Sunday, the last day of Winter NAMM 2016, I was stumbling through Hall D ready to call it a day when I was flagged down by Helene Webman. She enthusiastically insisted that I had to check out a new acoustic guitar product invented by her husband, Ofer Webman. I was escorted to a sound booth where I witnessed the demo of a very unique and useful musical device. The ToneWoodAmp SOLO sounds great! Unobtrusively attached to the back of an acoustic guitar, it makes 8 popular effects available to the player without the need for an amp or speakers.
Watch the video for a partial demo and see Ofer Webman explain how to install the ToneWoodAmp SOLO in an acoustic guitar.
General Specs of the ToneWoodAmp
Inputs and outputs: the TWAmp has one 1/4″ input (from guitar), one 1/4″ output (to amp or P.A.) and one 1/8″ TRRS I/O for iDevice (and other devices).
Effects: Built-in 8 effects: 3 types of Reverb, Delay, Tremolo/Delay, Leslie style Tremolo, Auto-Wah and Overdrive. Chorus is under development.
Effect parameters: each effect has three parameters. For example, the delay/echo effect has the following: Speed, Regenerate and Reverb.
Save/recall of effect settings: there are 10 memory locations for each effect where you can store/recall favorite effect settings.
Power: 3 AA batteries hold for an average of 8 hours.