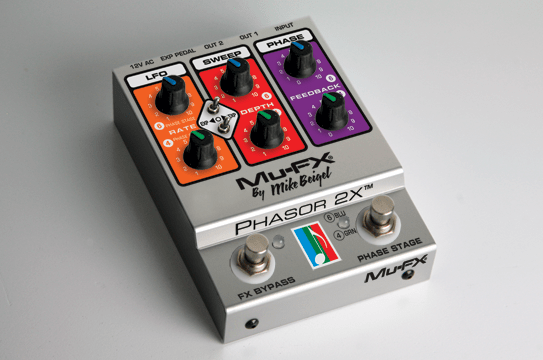 "The VERY Next Phase!" Mu-FX Phasor 2X Now Shipping
MikesGig is supported by its audience. When you purchase through links on our site, we may earn an affiliate commission. Read the full disclosure HERE.
The long-awaited Mu-FX Phasor 2X is the enhanced reissue of the classic Musitronics Mu-Tron Phasor II. Designed by Musitronics co-founder Mike Beigel, the Phasor 2X features the same analog electro-optical phase-shift circuitry as the original Mu-Tron Phasor II, with many enhancements.
Enhancements include:
Dual independent 4/6-stage phaser control sets (RATE, SWEEP, FEEDBACK)
Stereo (modified 5-stage) output
Silent footswitches with true-bypass
T-R-S input jack for expression pedal or CV control
Dual "EXP" toggle switches to control

 

LFO RATE or full-range phase SWEEP. With no EXP/CV pedal plugged in these toggle switches allow the Phasor 2X to become a stereo "multi-pole-filter" EQ.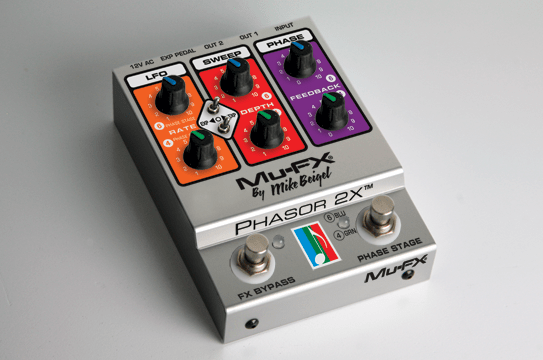 The Phasor 2X offers unparalleled clarity, dynamic range and responsiveness as a result of special electro-optical components and 12V AC power-supply (included with USA orders). Keep the Mu-mojo of deep and immersive spatial phasing without the bulk or worry of carrying around your vintage unit.
If you like phasors, you'll love the Phasor 2X. And if you've never liked phasors before, it's because you've never played the Mu-FX Phasor 2X. It is truly  "The VERY Next Phase!"
Features:
Dual independent RATE, DEPTH and FEEDBACK controls – allow separate settings for 4 and 6 stage phasing
Dual silent FOOTSWITCHES and multi-color LEDs for FX/BYPASS and PHASE STAGE selection
Phase RATE/SWEEP LED
Two OUTPUTS for stereo use
EXP/CV (T-R-S) input for expression pedal or synth CV effect control
Internal switch to choose between Active and True-Bypass
12V AC power supply for studio-quality dynamic range and headroom
The Phasor 2X is available direct for $359.95 at www.mu-fx.com. (with 12V AC power supply for USA customers)
Available as a "combo" with the dual-output Mu-FX/Mission MU-XP2 EXP PEDAL for $499.95 (Pedal available separately for $160.00)
The Phasor 2X will also be available at select retailers internationally
Watch a demo of the Phasor 2X at NAMM 2017:
For more information: