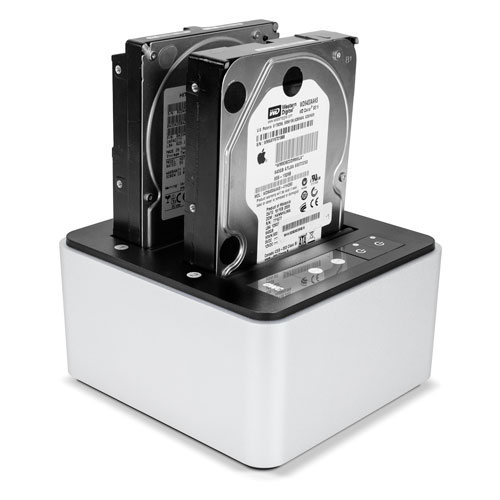 The OWC Drive Dock USB 3.1 Gen 1 Bare Drive Access Tool
MikesGig is supported by its audience. When you purchase through links on our site, we may earn an affiliate commission. Read the full disclosure HERE.
A better way to backup and retrieve files from 3.5″ and 2.5″ SATA Solid State and Hard Disk drives
This is a pretty simple box that creates an easy solution to save and access your data. The Drive Dock has 2 slots to insert bare hard drives. It will accept 2.5″ and 3.5″ SSDs and HDDs and run 2 drives at a time that are completely independent from one another. And, it's hot-swappable and bootable.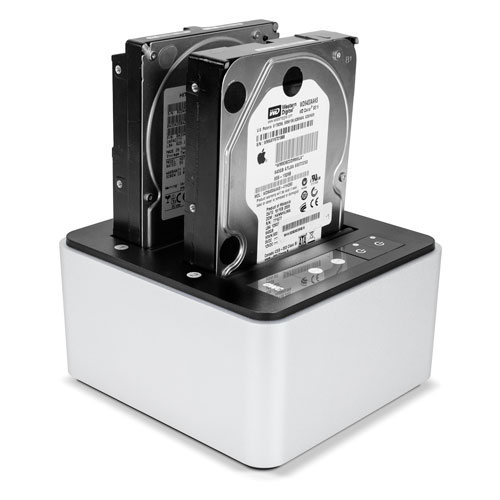 The unit is easy to set up with no drivers required – just plug in the supplied USB and power cables, hit the power switch and your in business. Slide a drive gently into the bay, observing the graphics that indicate where the connection board lines up, and hit the power switch for the corresponding drive bay. The drive I tested is a 2TB Fantom HDD that was recognized quickly on my Mac Pro tower. I opened several large photos and even some movie files – the unit worked flawlessly with no lag or hesitation.
The main advantages of using the OWC Drive Dock over separate drive enclosures are:
The dock can stay connected and ready to accept a drive at any time
No more wasted time plugging and unplugging multiple boxes and waiting for them to power up (I have a drawer full of external drives)
Less storage space needed for drives (although I would recommend at least keeping the drives in anti-static bags or better – a case)
The expense of external drive enclosures
The workflow on this unit will be similar to the old days of Syquest or ZIP drives – but with modern speed.
Lately I've been doing a lot of video editing and the Drive Dock will provide a more convenient method of creating and storing backups.
The unit looks great on my desk next to the Mac Pro tower, and its made to be compatible with Mac and PC. The case is very robust being made of strong yet light-weight aluminum. Status lights let you know what's going on with the unit and the panels are clearly marked and easy to read. The only quibble I have is the length of the cords – a little short for my application but probably just fine for many.
Highlights
Two drive bays for 2.5″ or 3.5″ hard drives and SSDs
USB 3.1 Gen 1 connectivity
Up to 434MB/s speeds
Independent power switches, and simultaneous operation
Internal power supply with universal compatibility
Mac and PC compatible
Only $79.99 MacSales.com Price$68.75