The MU is Back! Beigel Sound Lab™ Releases Mu-Tron III™ Upgrade—The Tru-Tron 3X™
Notice
: Trying to access array offset on value of type bool in
/home/top10bassplayers/mikesgig.com/wp-content/plugins/wp-social-sharing/includes/class-public.php
on line
81
MikesGig is supported by its audience. When you purchase through links on our site, we may earn an affiliate commission. Read the full disclosure HERE.
The MU is back! Mu-FX™ has introduced and is now shipping the Tru-Tron 3X™, first of the upgraded Musitronics Corporation products.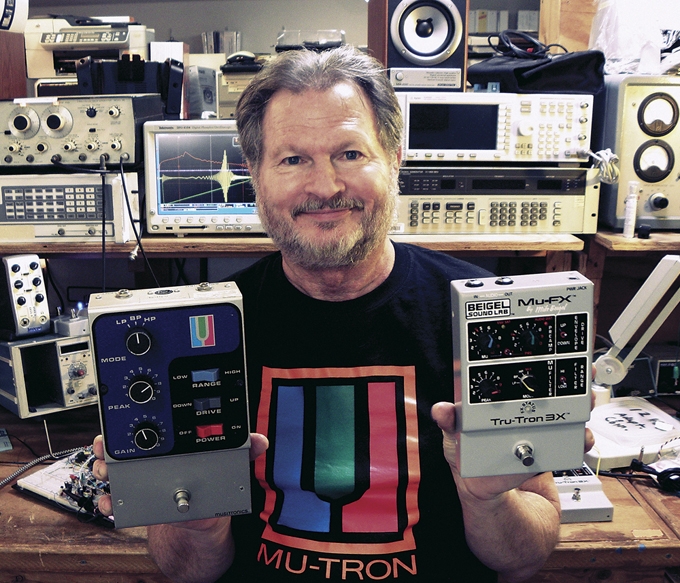 The Tru-Tron 3X™ is the authorized modern all-analog re-issue and refinement of the classic Mu-Tron III™ envelope controlled filter.
Mike Beigel, inventor/designer of the Mu-Tron III™ and co-founder of Musitronics Corp., has retained all the sonic mojo that made the 1972 unit so popular with Stevie Wonder, Jerry Garcia, Bootsy Collins, Larry Coryell, Frank Zappa, Carlos Santana, Joe Zawinul, George Duke and many more.
Made in USA, the Tru-Tron 3 has been refined with the following features:
MU and PRE controls for independent control of envelope drive and audio gain
MU/PRE switch
Indicator lights for envelope saturation and audio distortion
"MIX" position on filter mode switch
Higher Q than original Mu-III (when needed)
Indicator light for Power On: GREEN for bypass,  BLUE for effect
TRUE BYPASS (convertible to active preamp bypass)
The Tru-Tron 3X™ is the closest you'll find to the classic original Mu-Tron III, because at its heart—IT IS.
Currently available in the USA direct only from Mu-FX for $379.73 at www.mu-fx.com.  Dealer inquiries welcome.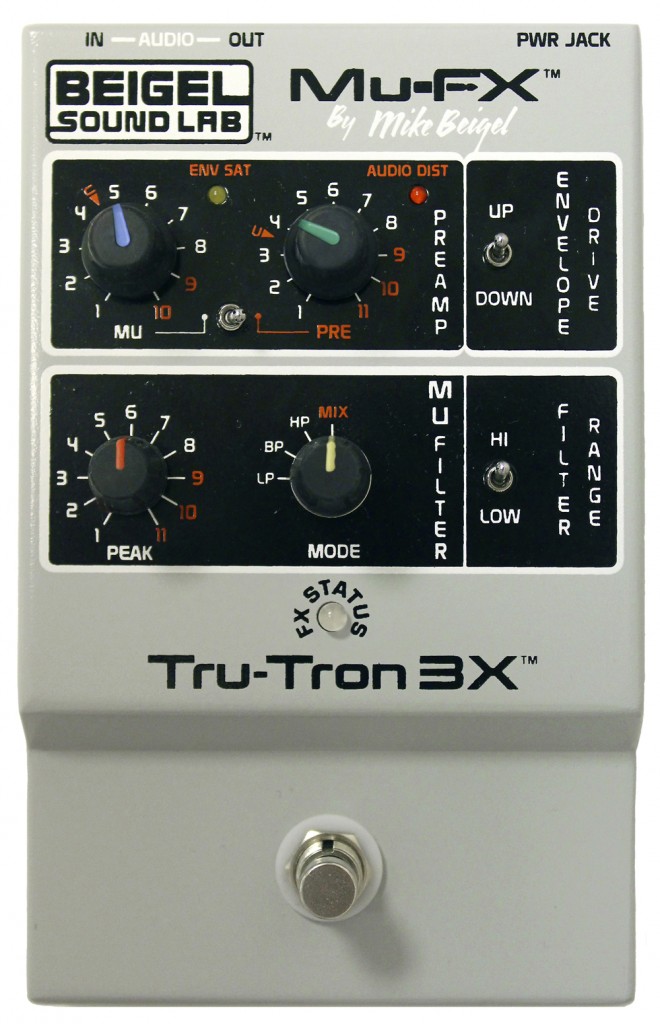 EU sales are handled exclusively by ATME (Analog Technology Music Electronics) http://www.at-musicelectronix.com
Other foreign dealers/distributors are invited to inquire.
About MU-FX and Beigel Sound Lab
Mike Beigel co-founded Musitronics Corporation in New Jersey in November, 1972. The Mu-tron III™ was the first of the company's products that achieved worldwide success from 1972-1978. The Mu-Tron product line, intellectual property and goodwill were sold to Arp Instruments in 1978.
Arp went bankrupt in 1980 and all the specified property reverted back to Musitronics Corp. and its stockholders.
In 2006, the surviving stockholders of Musitronics unanimously assigned to Mike Beigel the sole right to represent and develop Musitronics and any of its remaining assets into the future.
In 2012, Beigel began to "resurrect and re-invent" the original Musitronics Mu-Tron product line. After the Arp bankruptcy the "Mu-Tron" and "Musitronics" trademarks were acquired in the USA by third parties. Beigel then re-named the product line Mu-FX™ by Beigel Sound Lab to avoid legal complexities. www.mu-fx.com