The Guitarist Behind the Taylor/GE Capital Ad
MikesGig is supported by its audience. When you purchase through links on our site, we may earn an affiliate commission. Read the full disclosure HERE.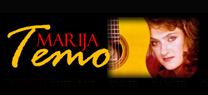 What a hot player, and a clever ad. They actually dubbed the head of a GE rep onto the body of Marija Temo for this spot. There has been some controversy brewing on the boards but I think the ultimate winners will be Marija and Flamenco. I had not heard of her until now, along with millions I'm sure, but I will be hearing much more. Check out her website and Facebook fan page. You'll be glad you did. And by the way, it was great seeing Bob Taylor's face on the screen. He's one heck of a nice guy with a great product that really invigorated the American guitar making industry. Taylor did to the guitar industry what Toyota, barring recent misfortunes, did to the automotive. He created a product of value that spurred on an entire industry to do better. And we are all beneficiaries.
Support the Artist—marijatemo.com
Marija on Facebook
taylorguitars.com
Anaheim, January 16, 2011—At the Breakfast Session, NAMM awarded this commercial a 2010 Wanna Play? Award, honoring companies outside of the music products industry whose advertisements inspire more people to make music.