THE BIG BOSS GIVEAWAY IS BACK!
MikesGig is supported by its audience. When you purchase through links on our site, we may earn an affiliate commission. Read the full disclosure HERE.
Roland is giving away a lot of free stuff. Enter to Win BOSS Pedals Autographed by Steve Vai, John 5, and More.
BOSS has gone berserk again with another round of The Big BOSS Giveaway. The biweekly contest gives tone freaks everywhere a chance to win BOSS pedals autographed by top guitar heroes and $1,000 in BOSS gear.
Every two weeks between August 5, 2013, and September 30, 2013, a different signed BOSS pedal from a famous guitar hero will be given away, as well as $1,000 in BOSS gear. Contestants can enter once every two-week period, giving them up to five chances to win. Contestants should enter at the BOSS U.S. Facebook Giveaway tab.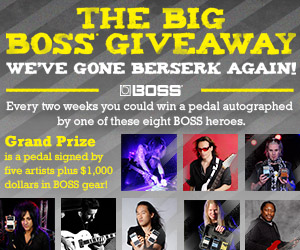 The Big BOSS Giveaway Prize Lineup:
8/5/13 – 8/18/13    CH-1 pedal signed by Dave Navarro
8/19/13 – 9/1/13    DD-7 pedal signed by Steve Vai
9/2/13 – 9/15/13    DS-1 pedal signed by Jeff Loomis
9/16/13 – 9/30/13    DD-3 pedal signed by Steve Stevens, John 5, Billy Duffy, Herman Li, and Darryl Jones
8/5/13 – 9/30/13    Grand Prize: $1,000 (suggested retail price) in BOSS gear
Contest eligibility is for U.S. residents only. Visit the Big BOSS Giveaway contest rules page for information and official rules.