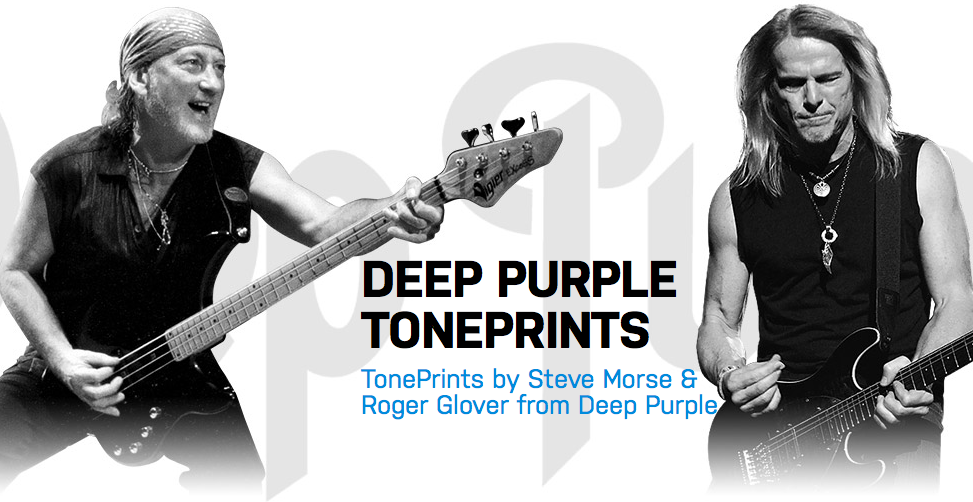 TC Electronic Announces Free Deep Purple TonePrints
MikesGig is supported by its audience. When you purchase through links on our site, we may earn an affiliate commission. Read the full disclosure HERE.
With two TonePrints from Roger Glover and three from Steve Morse, there is something to love for guitarists and bassists alike!
The Roger Glover and Steve Morse TonePrints are available immediately and free of charge at www.tcelectronic.com/deep-purple-toneprints or via the free TonePrint App for iOS and Android.

Roger Glover TonePrints
Roger Glover provided Roger's Spare Room 1, a sound very much inspired by Jaco's reverb-drenched solo sound. Roger went for an almost chorussy reverb sound, and he ended with a TonePrint he liked so much he started using it live the night he made it. Characterized by a nice round 'quack' and an easy attack, this reverb accompanies your playing in sweet excellence, without overstatement.
The second TonePrint is called Roger's Fun at Home, a nice hall reverb that is not too bright, but adds some nice swells behind what you are doing, yielding a very rich tone. It really adds to your tone if you're playing at home or in a studio and really recreates playing in a large hall in a live setting.
Morten Ehlers, TC Electronic's Business Manager for Bass, adds: "Roger Glover is a true musician. He's a legendary bass player, great record producer and obviously a great songwriter. But he's very cool and down to earth and just really loves music and cool sounds – perfect for doing great TonePrints!"
Steve Morse TonePrints
For guitarists, things are all about the legendary Steve Morse, who provided 3 TonePrints that quickly became fan favorites. And we think this celebration of Deep Purple and Steve Morse will make so many more guitarists happy!
First of, Steve made the Steve Morse Delay – available for Flashback Delay and Flashback X4 Delay. Steve has a unique and very cool way of using his delay. He basically uses two stacks, one for his dry sounds and one for his delay sounds and he sets the mix between them using a volume pedal on the delay stack – it's that mix we captured with this TonePrint. All knobs can be set at 12 o'clock for Steve's standard delay sound. With the Delay Time knob all the way down, the delay is so short it actually functions as a chorus too, which is exactly how Steve uses his second Flashback Delay pedal.
Next, Steve provided TonePrints for Hall Of Fame Reverb – one is simply called Beautiful Reverb, which works particularly well for big clean sounds, with a full and lush tone.
The final TonePrint is called Spring. The springy character of a really good spring reverb is unmistakable in this TonePrint and useful in countless Rock and Pop genres. Steve's twist on this TonePrint makes it suitable for lead and crunch sounds in particular.
Tore Mogensen, Business Manager for Guitar at TC Electronic adds: "Deep Purple is one of the cornerstones in music, it's difficult to overstate their importance. Steve Morse is one of the most versatile guitarists I know. How he manages to be completely comfy with wildly different genres is such a compliment to his musicality – that's the kind of guy you just know will make great TonePrints."