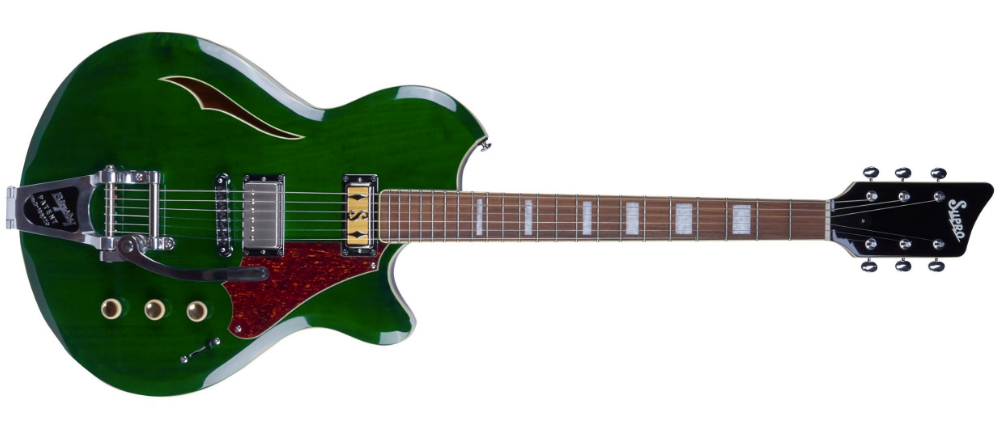 Supro Launches New Amp, Guitars and Pigtronix Looper Pedal
MikesGig is supported by its audience. When you purchase through links on our site, we may earn an affiliate commission. Read the full disclosure HERE.
Supro Conquistador and Clermont semi-hollowbody guitars, Supro Blues King 10 and Pigtronix Infinity 2 Double Looper introduced at NAMM 2020.
The Supro Conquistador is a retro-future fantasy instrument, designed in conjunction with Nashville-based guitarist Ford Thurston. The concept for this guitar originated with the idea of taking a traditional Supro double-cut body shape, and proportionally increasing the body dimensions to match Ted McCarty's groundbreaking semi-hollow 335 design.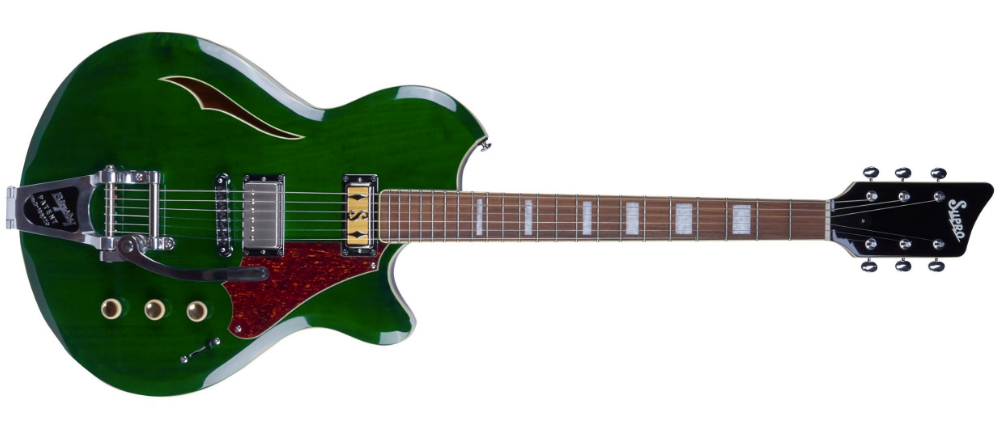 The Conquistador's mahogany body features a single, stylized "f-hole" on the upper bout and a gentle bevel along the outer edge for player comfort. A three-piece bound mahogany neck with 24.75" scale, 12" radius and smooth satin finish is topped off with an elegant black "stinger"—located on the back of an enlarged headstock with 3-per-side Kluson-style tuners. The Conquistador is also equipped with a genuine Bigsby B7 vibrato system and nylon-saddle bridge.
The custom electronics package found on the Conquistador combines a mini-humbucker-sized Gold Foil pickup in the neck—for woody single-coil tones—with an Alnico 3 PAF-style humbucker for vintage clarity, sparkle and bite in the bridge position. A 3-way blade switch is joined by individual volume controls for each pickup and a master tone control, all topped with Hofner-style creme/gold "teacup" knobs. The Conquistador features a "50's wiring" scheme that preserves top-end sparkle when rolling the pickup volumes down, greatly enhancing the range of usable sounds in comparison to typical production guitars.
The Supro Clermont model draws from the same well of golden-era, semi-hollow inspiration, featuring all-Maple, flat-top construction with 3-ply body binding and a lovely Aqua Burst finish. National-style "bowtie" fretboard inlays and white binding finish off the 3-piece black satin maple neck. The Clermont offers a wide-range of crystal clear single-coil sounds from a calibrated pair of mini-humbucker-sized Gold Foil pickups on a 3-way toggle switch.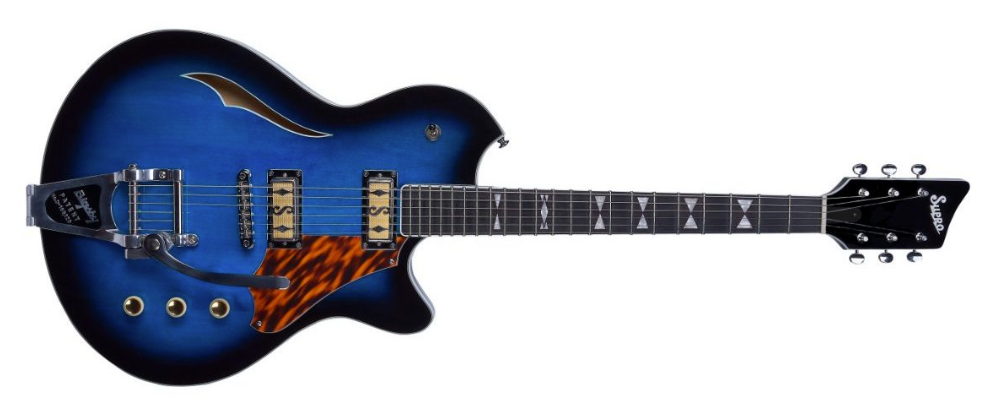 The elegant lines, thoughtful hardware appointments and custom electronics of the Supro Conquistador and Clermont guitars come together to create a world-class pair of semi-hollow instruments. These guitars handle a wide variety of musical situations from indie rock to surf instrumentals, Western swing, jazz, blues, country and everything in between. While clearly possessing a unique set of tonal and visual aesthetics, the stylish body contours enable these Supro instruments to fit perfectly into a 335-style hardshell case.
Clermont Features:
Maple semi-hollow body with center block
3-piece Maple neck with black satin finish
24.75″-scale-length set neck
Pau Ferro fretboard
National-inspired "bowtie inlays"
Bigsby B7 vibrato
Mini-humbucker-sized Gold Foil pickups
2x volume control / 1x tone control
50's wiring stays bright when volume is rolled off
"Hofner Tea Cup"-style knobs
Aqua-burst finish with matching back and sides
Conquistador Features:
Mahogany Semi-Hollow body with center block
3-piece Mahogany Neck with Natural Satin Finish
24.75″ Scale Length set neck
Pau Ferro Fretboard
Bigsby B7 Vibrato
Alnico 3 PAF Bridge Humbucker with brushed Nickel Cover
Mini-humbucker Gold Foil Neck Pickup
2x Volume control / 1x Tone control
50's Wiring stays bright when volume is rolled off
"Hofner Tea-cup" style knobs
Trans British Racing Green finish with natural Mahogany back and sides
The Supro Conquistador and Clermont guitars are now shipping to dealers worldwide with a MAP price of $999.
Supro Blues King 10 5W 1×10 Tube Guitar Combo Amp
The Supro Blues King 10 taps directly into Supro's deep American roots, delivering the tone of the mid-century, Chicago-made amplifiers that helped sculpt the sound of blues and the British invasion of the '60s. Supro tube amps have a unique power section that puts you at the crossroads where rhythm and blues intersect with country to create the music called rock 'n' roll. The Blues King delivers the tonal characteristic of these coveted vintage Supro tube amplifiers while adding foot-switchable fat boost and a face-melting, high-gain mode along with real spring reverb and 2-band EQ.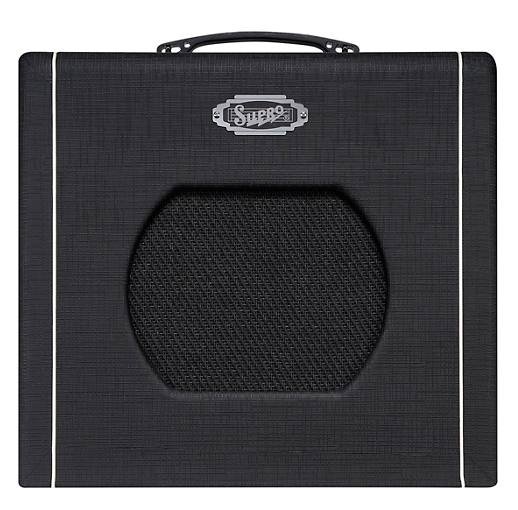 Power: 5W (tube)
Tubes: one 12AX7 (preamp); one 6V6
Class A power
Speaker: 1×10" Custom Supro BK10
Footswitchable boost and gain
Effects: Analog spring reverb
Pigtronix Infinity 2 Double Looper
Pigtronix Infinity 2 is a stereo looping pedal with two independent loops and a streamlined user interface that has been designed to provide an intuitive musical workflow, right out of the box.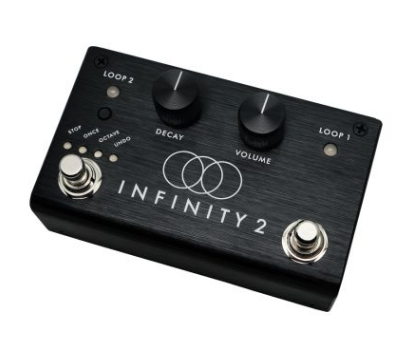 The Infinity 2 enables musicians to seamlessly switch between parts, even during initial recording or while overdubbing. This Verse / Chorus type of workflow is further expanded by the ability to delete the loop that is not currently playing—freeing up an open slot for a new loop to be created, without interrupting playback.
Dual stereo loops
Verse / Chorus
Undo / Redo
One Shot / Stutter
Octave Up / Down
Instant Stop
Cued Stop
Fade Out Stop
Rec > Overdub > Play
Loop Audio Volume control
Variable Overdub Decay
Delete Loop Not Currently Playing
5 minutes total looping time
TRS Remote Switch option
Wet / Dry routing mode
24bit / 44kHz recording
Chassis size = 4.5" x 2.6" x 1.3"