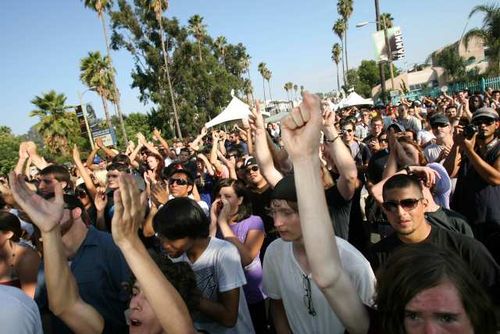 Sunset Junction – What Do You Do When Your Gig is Cancelled?
MikesGig is supported by its audience. When you purchase through links on our site, we may earn an affiliate commission. Read the full disclosure HERE.
Sunset Junction Bands Left in the Lurch 
The iconic yearly street fair is another casualty of our sputtering economy as organizers fail to raise $141,000 to pay local government for this year's permits plus another $256,484 past due from last year's event. The 31st annual Sunset Junction was officially cancelled on Wednesday, August 24 when the Board of Public Works and event organizers were unable to reach an agreement by the 12 noon deadline.
What do the over 100 scheduled bands and DJs do?
Due to the short notice many, if not all, of the acts had already arranged for travel and lodging and other expenses that they cannot recoup. The last time this happened to my band, we drove home and got drunk – thankfully it was a short drive and our only loss was a tank of gas – and we needed a night off anyway. But what do you do if you flew in or drove cross country and due to hotel and travel arrangements are forced to stay put? Anybody out there have a site that can be used for the "Lost Junction Festival"? I have a feeling that there will be a lot of out of state bands site-seeing in Southern California this weekend.
The 2011 Sunset Junction Street Fair Lineup
BATES SAT AUG 27:
1-1:35pm – Barrio Tiger
2-2:35pm – Cinderella Motel
3-3:35pm – The Stripminers
4:00-4:40pm – Vanaprasta
5:05–5:45pm – 400 Blows
6:10-7:10pm – Helmet
7:40-8:45pm – Melvins
9:15-10:45pm – Butthole Surfers
EDGECLIFFE SAT AUG 27:
1-1:35pm – The Hundred Days
2:00-2:35pm – Useless Keys
3:00-3:35pm – Chasing Kings
4:00-4:45pm – Art vs Science
5:15-6:00pm – Shadow Shadow Shade
6:30-7:30pm – He's My Brother She's My Sister
8:00-9:00pm – Tapes 'n Tapes
9:30-10:45pm – Art Brut
HOOVER STAGE SAT AUG 27:
1:00-1:40pm – Big D a tribute to Little Richard
2:00-3:00pm – The Damselles and The TC4
3:30-4:30pm – Vaud and the Villians
5:00-6:00pm – Nick Waterhouse
6:30-8:30pm – Ladies of Motown review feat. Kim Weston, Brenda Holloway, and the original Vandellas
9:00-10:45pm –  kd lang
HYPERION STAGE SAT AUG 27:
1:45-2:15 Yellow Red Sparks
2:30-3:10 Greylag
3:30-4:10 Buddy
4:30-5:10 The Bitter Branches
5:30-6:10 The Steelwells
6:30-7:10  Milo Green
7:30-8:15 Brian Wright
45 minute Cushion
9-9:40 Cary Brothers
10-10:50 Butch Walker
1-1:30 Nicole Eva Emery
EL CID STAGE SAT AUG 27:
1:35pm COR??
2:40pm Battle of the Bands Winner
3:40pm Marvelous Toy
4:30pm Lovers Drugs
6:35pm The Studio fix
7:50pm TBA
8:55pm The Remainers
9:45pm Living Dead Lights
11pm-2am Goodie tu-shoes
 (Niki Sexton Spinning in Between bands)
SANBORN STAGE SAT AUG 27:
12:15pm DJ Dexterous (OC)
1:45pm DJ Drew (102.7 kiss fm)
3:00pm David Palmer
4:00pm DJ Thrifty Lips (OC)
4:50pm DJ Scotty Boy (Las Vegas)
6:15pm Swedish Egil (Powertools)
7:45pm Morgan Page
9:00pm Dj set by LIL JON
Aug, Sun 28 2011
BATES SUN AUG 28:
12:30-1:00pm – Manhattan Murder Mystery
1:25-1:55pm – Lesands
2:20-3:00pm – Hands
3:25-4:05pm – The Soft Pack
4:30–5:15pm – The Growlers
5:40-6:30pm – Dum Dum Girls
7:00-8:00pm – Gayngs
8:30-9:45pm – Clap Your Hands Say Yeah
HOOVER SUN AUG 28:     
We regreat that Kitty Daisy & Lewis will not be performing this year
1:00-pm – Sunny War
2:00-pm Ruby Summer
3:30-pm – Charles Bradley
5:00-pm – The Three Degrees
6:30-pm – Ozomatli
8:00-pm – Bobby Womack
EDGECLIFFE SUN AUG 28:
12:30-1:10pm – The Californian
1:35-2:15pm – Olin and the Moon
2:40-3:25pm –The Fling
3:50–4:40pm – Lady Danville
5:05-6:05pm – The Belle Brigade
6:30-7:30pm – Rooney
8:00-9:45pm – Hanson\
HYPERION STAGE SUN AUG 28:
12pm – Rachel Goodrich
12:40pm – Jesse Thomas
1:30pm – Erin McLaughlin
2:30pm – Holly Conlan
3:30pm – Carina Round
4:30pm – Madi Diaz
5:30pm – Jim Bianco
6:30pm – Honeyhoney
45 minute Cushion 
8pm – Chris Pierce
9pm – The Rescues
SANBORN STAGE SUN AUG 28:
11:45am- DJ Exodus (Palm Las Vegas )
1:00pm- DJ Fashen
2:30pm- DJ Reflex (Power 106)
3:30pm- LAzR TAG (Heist)
4:50pm- EC TWINS
6:15pm- Trent Cantrelle (EDC)
7:25pm- Natalia Kills (live show)
8:35pm- DJ set by PEACHES
EL CID STAGE SUN AUG 28:
2:00pm- Tic Tic Boom
3pm to 6pm- Nomerica DJs
6:15pm- Oh Darling
7:25pm- Broken Numbers Band
8:45pm- Roses Pawn Shop
9:45pm- Leftover Cuties
11:00pm- David and Devine
12:15am to 1:00am The Stone Foxes
9:45pm- (Niki Sexton Spinning in Between bands)