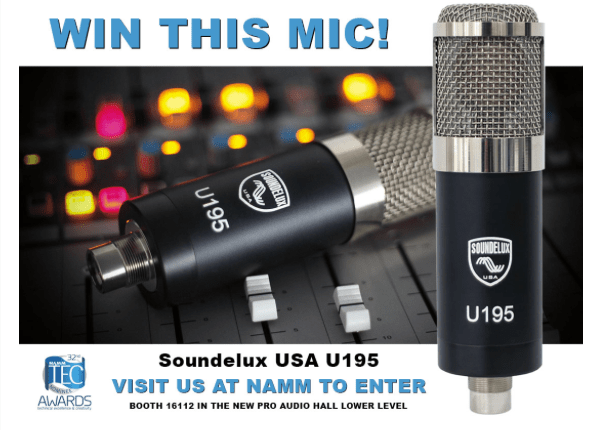 SOUNDELUX USA IS GIVING AWAY TWO U195 MICROPHONES AT NAMM!
MikesGig is supported by its audience. When you purchase through links on our site, we may earn an affiliate commission. Read the full disclosure HERE.
To celebrate the start of 2018, Soundelux USA will be giving away two of their U195 Studio Condenser Microphones with $1249 each at the NAMM Show.
Please visit us at Booth 16112 in the new Pro Audio Hall where we will raffle off a Soundelux USA U195 on Friday, January 26th and Saturday, January 27th at 4:30pm each day. Participants must be present to win.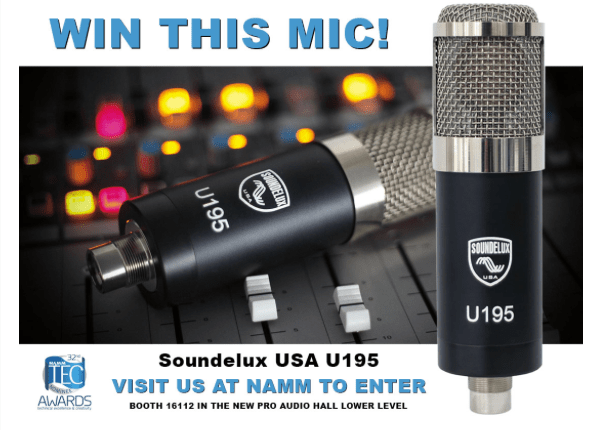 The Soundelux USA U195 is a great value in studio condenser microphones capable of satisfying a wide range of demands for highly experienced engineers that own more expensive microphones, yet need additional mics to fill out their cabinet within a budget.
The U195 is a versatile phantom-powered single, low-noise, wide-band FET mic coupled with Soundelux USA's new super smooth k67 capsule.  Add to this a massive output transformer along with a unique "FAT" switch, and you have the ultimate Swiss Army Mic capable of handling any studio chore you can throw at it.
Custom built and hand-made, U195 delivers superb results on lead vocal tracks as well as in instrument and guitar amp use, providing remarkable fullness and presence with exceptionally low background noise.

(Employees of, and exhibitors of Bock Audio, Soundelux USA, NAMM, Freemann and TEC and not eligible to win.)