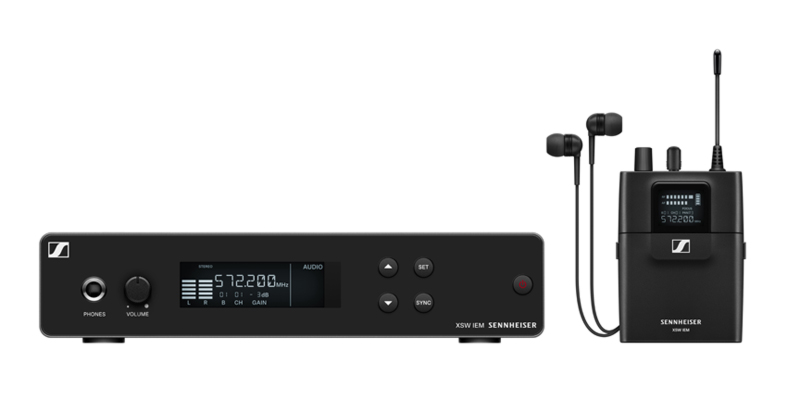 Sennheiser XS Wireless IEM in-ear monitoring system delivers
MikesGig is supported by its audience. When you purchase through links on our site, we may earn an affiliate commission. Read the full disclosure HERE.
New system promises a big leap in performance quality for up-and-coming bands and singer-songwriters
Back in the day, and even now, many local bands and small concert venues use floor wedge monitors and side fill monitors to allow musicians to hear everything on stage for a better performance. Singers need to hear themselves to stay in pitch and reduce vocal strain. Today we can make the choice to use IEMs with this new more affordable professional system from Sennheiser.

The XSW IEM SR Stereo Transmitter features eight pre-configured frequency banks in the professional UHF range. The transmitter and receiver are each set to the same frequency for ease of initial setup. The clever power adapter comes with 4 different plugs to accommodate various country requirements. Also included are the antenna, IE4 earbuds with 3 tip sizes, batteries and metal panels with hardware to rack mount one or two units per rackspace.
Easy to set up and start rocking…
As soon as you make all the connections for the system, simply turn on the transmitter and receiver and it is ready for use. An unlimited number of receivers can be used with one transmitter. With the XSW IEM Set and 3 additional receivers you can do a 4 piece band for around $1746 – about the same price as 4 descent quality powered wedges but without heavy hauling, running wires and taking up valuable stage real estate. There is some built-in limited mix customization on each receiver to adjust for each performer. Watch THIS VIDEO for a setup tutorial from Sennheiser.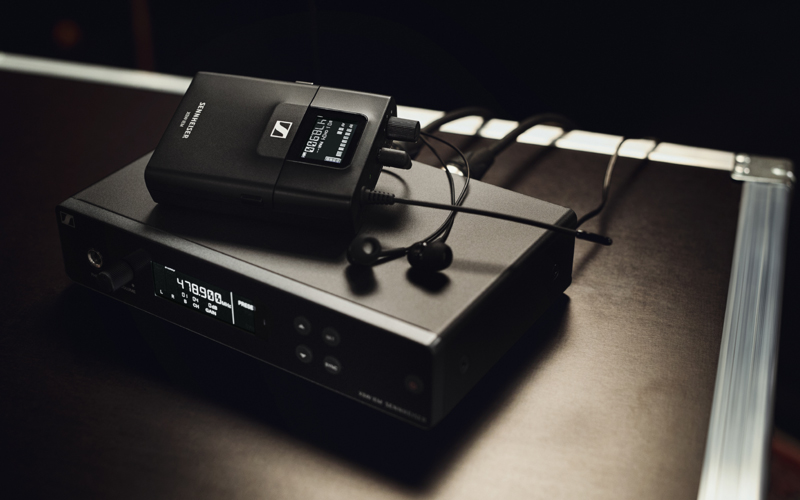 I found the system to sound good on singing, guitar and bass with clear sound and no drop outs. As an added bonus you could use the transmitter as an additional headphone amp in a recording session or use the whole system to provide wireless monitoring where hard wiring is not practical.
The included IE4 earbuds are totally usable but you may want to upgrade these at some point. Three different size tips are provided. Choose the size that creates suction when inserted into your ear canal and you will experience tight, deep bass and clear highs. I found the IE4s to over accentuate the highs a bit – not a problem with an EQ on your monitor board.
All-in-all this is a great system that will benefit anyones monitoring needs. The only thing I would add right away is a re-chargeable battery system – the supplied batteries lasted for about 8 hours of constant use. I wish the XSW IEM was available when I was hauling bi-amped JBL wedges and side fills all over the Southwest!
I expect to see a lot of used wedges on Craigslist in the near future…
Where to buy:
XSW IEM retails at $599 USD (MSRP), additional receivers and transmitters at $349 USD (MSRP) each.
XSW IEM is available in five UHF frequency ranges which are aligned with the XSW family of wireless microphones and instrument transmitters.
Technical Data
XSW IEM SR Stereo Transmitter
​Modulation: FM stereo
​Frequency ranges and max. RF power:
​A: 476 – 500 MHz (30 mW)
​B: 572 – 596 MHz (30 mW)
​C: 662 – 686 MHz (30 mW)
​E: 823.2 – 831.8 MHz (30 mW)
​K: 925.2 – 937.3 MHz (10 mW)
​Switching bandwidth: up to 24 MHz
​AF frequency response: 45 Hz to 15 kHz
​Audio inputs: 2x XLR-3 / ¼" (6.3 mm) jack combo socket, electronically balanced
​Total harmonic distortion (THD): <0.9 %
​Signal-to-noise ratio: ≥88 dB
​Temperature range: 0 °C to +40 °C
​Input rating: +12 V DC
​Current consumption: approx. 400mA (depending on volume level)
​Dimensions: approx. 200 x 128 x 42 mm
​Weight: approx. 700 g
XSW IEM EK Stereo Receiver
​Switching bandwidth: up to 24 MHz
​Signal-to-noise ratio (1 mV, peak deviation): ≥88 dB
​Total harmonic distortion (THD): ≤1 %
​AF output level at 3.5 mm: 2 x 1.25 Vrms at 16 ohms
​High Boost (EQ): +10 dB at 13 kHz
​Limiter: -10 dB
​AF frequency response: 45 Hz to 15 kHz
​Temperature range: 0 °C to +40 °C
​Power supply: 2 AA batteries, 1.5 V
​Operating time: approx. 6 hrs (depending on volume level)
​Dimensions: approx. 95 x 70 x 26 mm
​Weight (incl. batteries): approx. 110 g
IE 4 In-ear Headphones
​Transducer: dynamic
​Frequency response: 40-20,000 Hz
​SPL (1 kHz, 1 mW): 106 dB
​Nominal impedance: 6 ohms
​Cable length: 1.4 m
​Connector: 3.5 mm (1/8") stereo plug, gold-plated
​Temperature: –5 °C to +50 °C