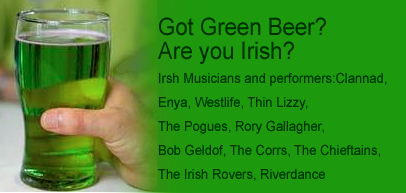 Saint Patrick's Day
St. Patrick's Day might have become so popular is that it takes place just a few days before the first day of spring. Saint Patrick is most known for driving the snakes from Ireland. Read more about the history. Green beer
MikesGig is supported by its audience. When you purchase through links on our site, we may earn an affiliate commission. Read the full disclosure HERE.
Today, people celebrate the day with parades, wearing of the green, and drinking beer. One reason St. Patrick's Day might have become so popular is that it takes place just a few days before the first day of spring. One might say it has become the first green of spring.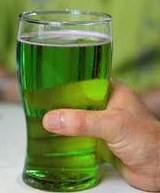 Are you Irish, part Irish? Comment below.
Today is a great day to promote beer. Green Beer, Celebrate!
Green Beer Day (GBD) is a day-long party, where celebrants drink beer dyed green with artificial coloring or natural processes. The tradition started at Miami University in Oxford, Ohio, and was first celebrated in 1952. It is celebrated annually on the Thursday before Spring Break,[1] and has been called Miami University's "biggest tradition".
Tradition
Students begin to drink as early as 3 to 5 A.M. on Green Beer Day; bars in Oxford open at 5 A.M. To celebrate the holiday, students wear ironic green T-shirts, and many students open entrepreneurial shirt stores to profit from the day. Students proceed to drink throughout the day, including arriving at class inebriated.
Irish Music is the generic term for music that has been created in various genres on the island of Ireland.
The indigenous music of the island is termed Irish traditional music. It has remained vibrant through the 20th, and into the 21st century, despite globalizing cultural forces. In spite of emigration and a well-developed connection to music influences from Britain and the United States, Irish music has kept many of its traditional aspects and has itself influenced many forms of music, such as country and roots music in the USA, which in turn have had some influence on modern rock music. It has occasionally been fused with rock and roll, punk rock and other genres. Some of these fusion artists have attained mainstream success, at home and abroad.
In recent decades Irish music in many different genres has been very successful internationally. However, the most successful genres have been rock, popular and traditional fusion, with performers such asClannad, Enya, Westlife, Thin Lizzy, The Pogues, Rory Gallagher, Bob Geldof, The Corrs, The Chieftains,The Irish Rovers, Riverdance, The Irish Tenors, Van Morrison, The Saw Doctors, Snow Patrol, The Cranberries, U2, The Undertones, Ash, The Script, Damien Rice, Glen Hansard and Eleanor McEvoy Lisa Hannigan achieving success nationally and internationally.
Back to St Patrick's story:
Saint Patrick was the patron saint and national apostle of Ireland who is credited with bringing Christianity to Ireland. Most of what is known about him comes from his two works, the Confession, a spiritual autobiography, and his Epistola, a denunciation of British mistreatment of Irish Christians. Saint Patrick described himself as a "most humble-minded man, pouring forth a continuous paean of thanks to his Maker for having chosen him as the instrument whereby multitudes who had worshipped idols and unclean things had become the people of God."
Saint Patrick is most known for driving the snakes from Ireland. It is true there are no snakes in Ireland, but there probably never have been – the island was separated from the rest of the continent at the end of the Ice Age. As in many old pagan religions, serpent symbols were common and often worshipped. Driving the snakes from Ireland was probably symbolic of putting an end to that pagan practice. While not the first to bring Christianity to Ireland, it is Patrick who is said to have encountered the Druids at Tara and abolished their pagan rites. The story holds that he converted the warrior chiefs and princes, baptizing them and thousands of their subjects in the "Holy Wells" that still bear this name.
There are several accounts of Saint Patrick's death. One says that Patrick died at Saul, Down patrick, Ireland, on March 17, 460 A.D. His jawbone was preserved in a silver shrine and was often requested in times of childbirth, epileptic fits, and as a preservative against the "evil eye." Another account says that St. Patrick ended his days at Glastonbury, England and was buried there. The Chapel of St. Patrick still exists as part of Glastonbury Abbey. Today, many Catholic places of worship all around the world are named after St. Patrick, including cathedrals in New York and Dublin city
Why Saint Patrick's Day?
Saint Patrick's Day has come to be associated with everything Irish: anything green and gold, shamrocks and luck. Most importantly, to those who celebrate its intended meaning, St. Patrick's Day is a traditional day for spiritual renewal and offering prayers for missionaries worldwide.
So, why is it celebrated on March 17th? One theory is that that is the day that St. Patrick died. Since the holiday began in Ireland, it is believed that as the Irish spread out around the world, they took with them their history and celebrations. The biggest observance of all is, of course, in Ireland. With the exception of restaurants and pubs, almost all businesses close on March 17th. Being a religious holiday as well, many Irish attend mass, where March 17th is the traditional day for offering prayers for missionaries worldwide before the serious celebrating begins.
In American cities with a large Irish population, St. Patrick's Day is a very big deal. Big cities and small towns alike celebrate with parades, "wearing of the green," music and songs, Irish food and drink, and activities for kids such as crafts, coloring and games. Some communities even go so far as to dye rivers or streams green!
Source:st-Patrick's-day.com/
Saint Patrick's feast day, as a kind of national day, was already being celebrated by the Irish in Europe in the ninth and tenth centuries. In later times he became more and more widely known as the patron of Ireland.[22] Saint Patrick's feast day was finally placed on the universal liturgical calendar in the Catholic Church due to the influence of Waterford-born Franciscan scholar Luke Wadding[23] in the early 1600s. Saint Patrick's Day thus became a holy day of obligation for Roman Catholics in Ireland. The church calendar avoids the observance of saints' feasts during certain solemnities, moving the saint's day to a time outside those periods. Saint Patrick's Day is occasionally affected by this requirement, when 17 March falls during Holy Week. This happened in 1940, when Saint Patrick's Day was observed on 3 April in order to avoid it coinciding with Palm Sunday, and again in 2008, where it was officially observed on 14 March (15 March being used for St. Joseph, which had to be moved from March 19), although the secular celebration still took place on 17 March. Saint Patrick's Day will not fall within Holy Week again until 2160.[24][25] (In other countries, St. Patrick's feast day is also March 17, but liturgical celebration is omitted when impeded by Sunday or by Holy Week.)