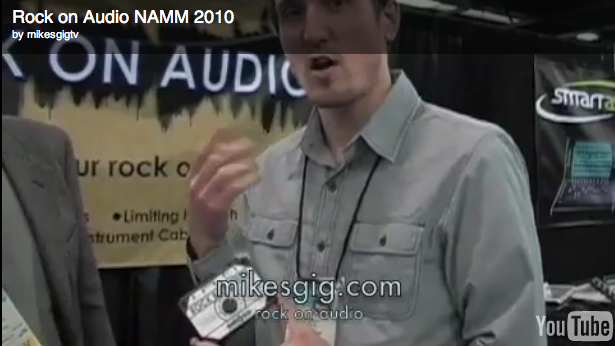 Rock on Audio – In-Ear Personal Monitor
MikesGig is supported by its audience. When you purchase through links on our site, we may earn an affiliate commission. Read the full disclosure HERE.
Rock On Audio has created a new category in personal stage monitors with its "Rockbox" system. They use an "old school" wired approach to create an effective and reliable in-ear system that is affordable for local bands and solo artists. The complete system includes the Rockbox Limiter Headphone Amp, Power Supply, and Rock on Cable for an MSRP of  $199.99. Typical wireless systems are in the $1,000 and up price range with the lower priced systems having sound quality and reliability issues. These wireless systems are not practical for the local working musician.
I tried this unit at NAMM 2010 with vocals and guitar and it worked beautifully. I can see myself using this system performing my gigs with an A/E,  live vocals and backing recorded tracks. Another great option would be using it as a vocals-only monitor system in a band setting, especially in smaller venues where floor monitor placement is a problem. The Rockbox Limiter has a built-in circuit to help prevent ear damage while providing a personal volume control that goes all the way up to 11 if you wish. I can see using it in my DAW setup in self-engineered sessions. For example, I like to record vocals in my tiled bathroom and getting a "remote" controllable monitor in there has been problematic.
The Rock On Audio "Rockbox" is the brainchild of musician/inventor Pete Lewis. His company is located in Lafayette, CO and the products are made in USA. We're looking forward to more innovation from Pete. RockOnAudio.com