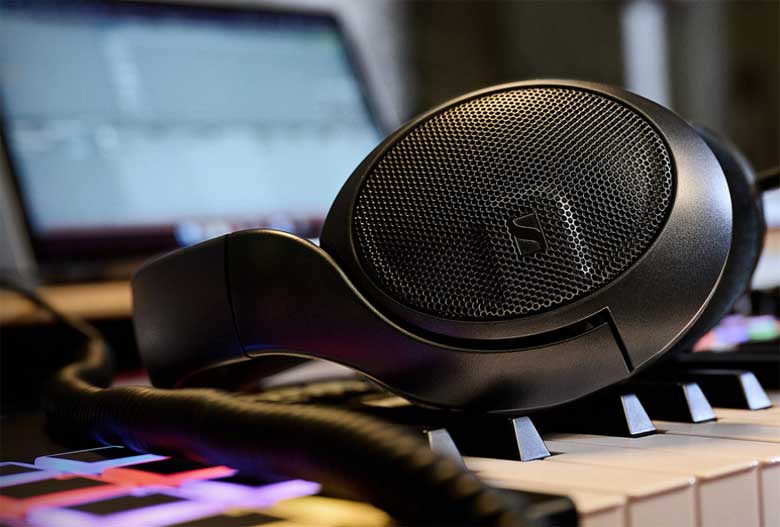 Review – Sennheiser HD 400 PRO Open-Back Studio Headphones
MikesGig is supported by its audience. When you purchase through links on our site, we may earn an affiliate commission. Read the full disclosure HERE.
Does the HD 400 Pro lightweight design allow you to focus on your project for hours on end?
I've been writing and tracking bass parts in my home studio the past couple days for dear my friend, Native American Flutist, Douglas Bluefeather. Douglas is an award winner on the flute as well as an outstanding drummer and percussionist who has self-produced over a dozen CDs. A perfect time to put the HD 400 Pros to the test with a broad spectrum of tonality – flute, drums, percussion, synthesizers and bass guitar.
First Impression — no pressure
Wow, these things are massive, yet light weight at only 240 grams. They are soundly constructed using a circumaural (ear-surrounding) design that surrounds the ears rather than the more typical over-the-ear headphones that apply pressure onto the ears. Even big enough to accommodate my massive lobes. So, rather than the uncomfortable, and even painful experience of having your ears squashed for hours on end, the HD 400 Pros rest just snug enough against the sides of your skull.
The removable earpads are made with a soft velour material that encapsulates a supple yet responsive tubular membrane. This should be a better long-term solution to the usual disintegrating vinyl-on-foam-rubber ear cups. And did I mention they are removable? Replacements are available from Sennheiser.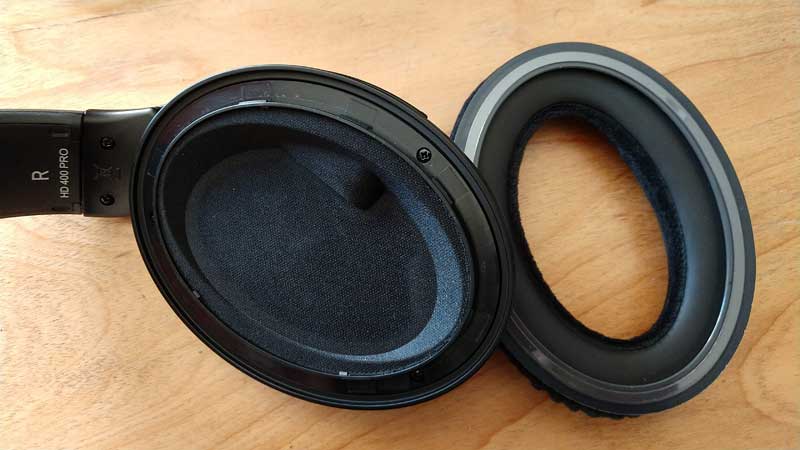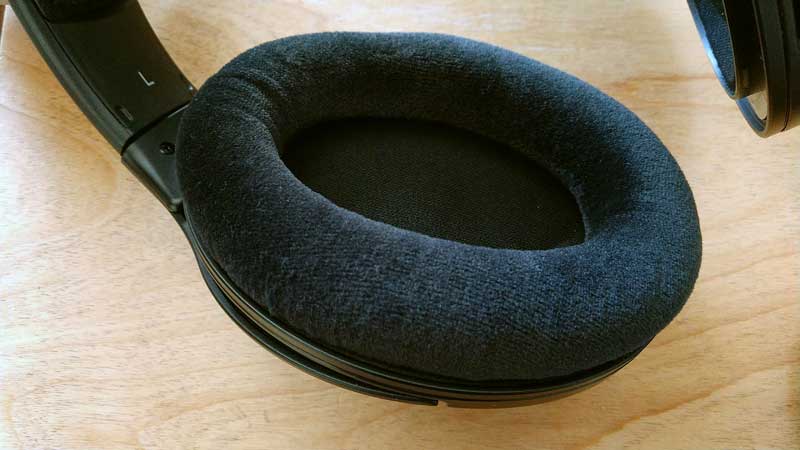 Its all about the sound – well, mostly
The Sennheiser HD 400 Pro headphones are a joy to wear, a joy to behold, and most importantly – a joy to listen with. Detailed – yes, extended frequency range – yes, wide and transparent soundstage – yes, lack of bass due to the open back design – not at all. These phones are punchy and articulate in the bass region – without that annoying boom. I could throw terms at you like "spacious and accurate soundstage" — so I will. As with other high-end headphones, the HD 400 Pros reveal subtle details in the music and surprised me on tracks that I have heard countless times. They are really aurally exciting and so comfortable that I kept forgetting to take them off after the music ended. Sennheiser claims this spatiality is achieved with angled transducers and open ear cups.
Technical Data
Impedance 120 Ω
Frequency response 6 Hz to 38 kHz (-10 dB)
Sound pressure level (SPL) 110 dB (1 kHz / 1 V RMS)
THD, total harmonic distortion < 0.05 % (1 kHz / 90 dB SPL)
Ear coupling circumaural
Jack plug 3.5 mm jack plug with 6.3 mm adapter
Weight 240 g
Storage temperature –55 °C to +70 °C (–67 °F to 158 °F)
Operating temperature –15 °C to +55 °C (5 °F to 131 °F)
Operating relative humidity ≤ 90 %
Accoustic principle dynamic, open
Ear pad material Velour
msrp $249
Coiled or straight?
Sennheiser includes two cables with the HD 400 Pro – a straight and a coiled. And one 3.5 mm jack plug to 6.3 mm adapter. For my taste the 1.8 meter straight cable could be twice as long to better allow snaking it out of the way when tracking bass and guitar. To change cables, lightly twist the jack a quarter turn counter clockwise and pull it straight out. It can be a little fiddly finding the right angle to reinsert the jack.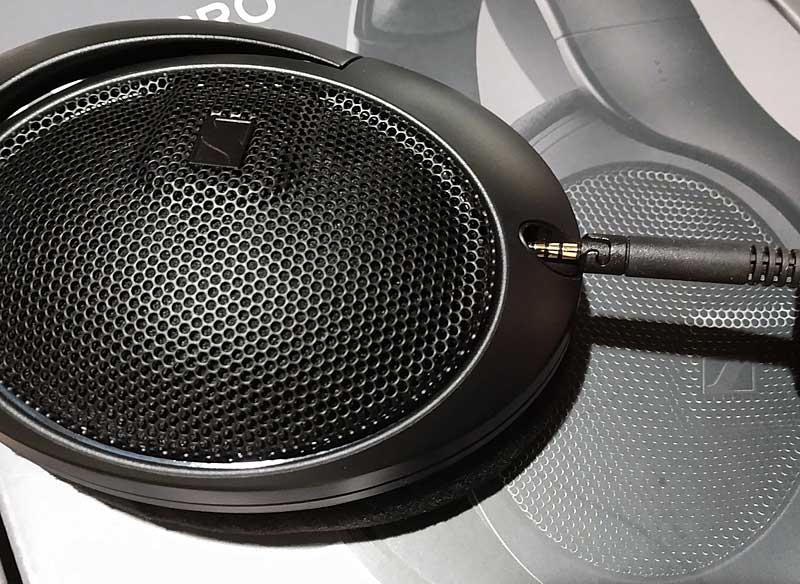 What are the Sennheiser HD 400 Pro headphones best suited for?
mixing
tracking instruments that don't require tight isolation
bass guitar was superb
audiophile
fatigue-free long-term listening
The Bottom Line
Well, back to my recording. The HD 400 Pro studio reference headphones are excellent for bass guitar, for mixing and enjoying music both at quiet and very loud levels. I can see these being my go-to phones for tracking and mixing.
| Pros | Cons |
| --- | --- |
| Very comfortable and light-weight | Manual doesn't explain how to change cords |
| Excellent sound | Instructions to replace earpads should be more detailed |
| Excellent build quality | Straight cable could be longer |
| Replaceable earpads | Pricey? Only time will tell. |
| Detachable cables – 2 included | |
Signal Chain Used On This Review
SSL 2+ USB Audio Interface
Pro Tools recording bass guitar
Amazon Music HD and Ultra HD listening to the usual suspects of acclaimed masters