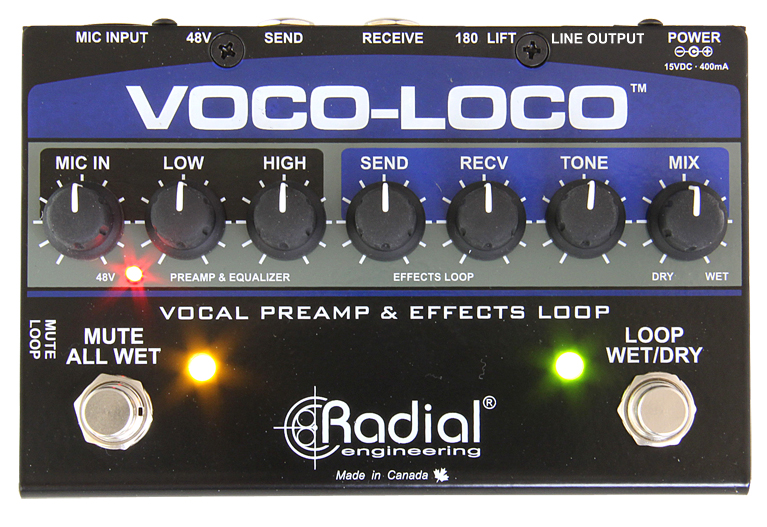 Radial introduces the Voco-Loco™ Mic Preamp and Effects Loop
MikesGig is supported by its audience. When you purchase through links on our site, we may earn an affiliate commission. Read the full disclosure HERE.
Any stage performer with a mic can now create and control their personal mic-based effects chain.
Radial Engineering Ltd is pleased to announce the Voco-Loco, a combination microphone preamp and effects loop insert that enables a lead vocalist, brass instrumentalist or harmonica player to incorporate guitar effects pedals into their signal path.  Just like an electric guitarist adds effects for soloing such as delay, reverb or distortion, this option is now available to anyone's performance by engaging  a simple footswitch.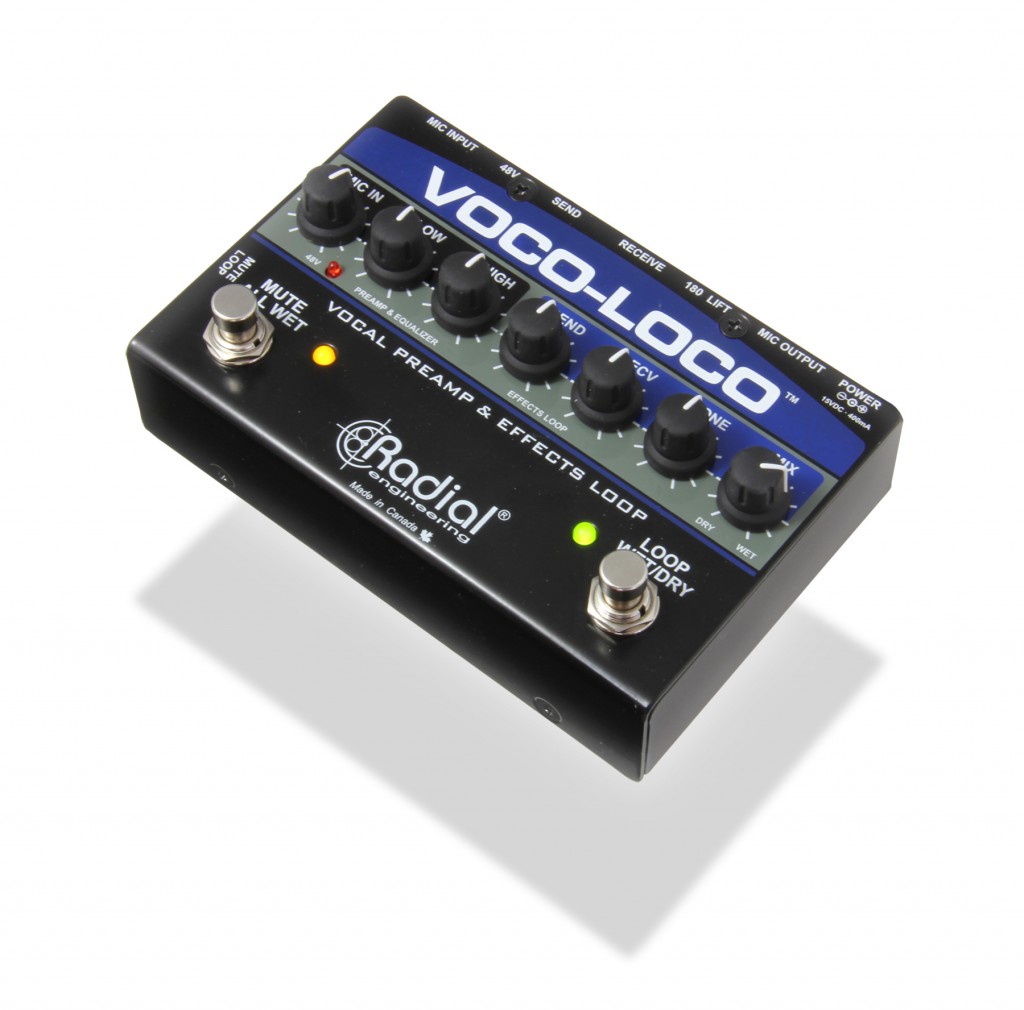 Radial has introduced a plethora of new innovative products this year. This unit reminds me of seeing Flora Purim, best known for her work with Chick Corea, in concert many years ago. She used two microphones in her performance. One mic was plugged directly into an Echoplex that she controlled from stage for special effects. Of course the sound quality of that setup was primitive compared to what can be accomplished with the Voco-Loco. Hats off to Radial for giving vocalists and other mic using musicians the flexibility to create and control their own effects chain.
Award winning composer/producer/instrumentalist Vince Mai has already put the Voco-Loco to the test. "I'm really gassed about the Voco-Loco because it is changing the way I approach electronics with my horn. As a horn player..the primary thing we work on is our personal sound..we are very attached to how we sound. If you use effects sometimes what happens is your sound degrades if you go directly into the effects units. What the Voco-Loco does for me is allow for my true sound to be sent through the system, processed and mixed in the degree that I want it be." See the video link for a full account of Mai's impression of the Voco-Loco.
The design begins with a high-performance preamp section that delivers over 60dB of gain, more than enough to adapt to virtually any microphone via standard XLR input. And with a built-in 48V phantom power generator, condenser mics can also be used. Radial's unique Accustate level control automatically sets the gain and sensitivity via a dual wafer potentiometer for improved signal-to-noise. A simple two band shelving EQ lets the vocalist add bass or accentuate the highs to enhance.
The signal then feeds an effects loop that has been optimized for guitar pedals via standard 1/4″ guitar jacks. Separate send and receive level controls let you adjust the levels going to the pedals to reduce distortion and optimize the signal path. A tone control on the return path can then be used to tame overly bright pedals for a smoother more natural tone while the wet/dry blend control enables the artist to mix in as much of the effect as desired.  The Voco-Loco's output is fully balanced and able to drive a typical mixing console input.
Two footswitches are top mounted. The right hand footswitch is used to turn on or off the effects loops while the left-hand footswitch can be used to either mute the Voco-Loco output to turn off the mic when not in use or be assigned as an on-off switch for the loop, bypassing the wet/dry function. You could for instance create a weird telephone effect with all of the sound passing through a distortion pedal or toggle the signal so that a blend of the unprocessed voice plus some reverb can be heard together. A 180°polarity reverse switch ensures the pedals are in phase with the original signal when the wet/dry blend is in use.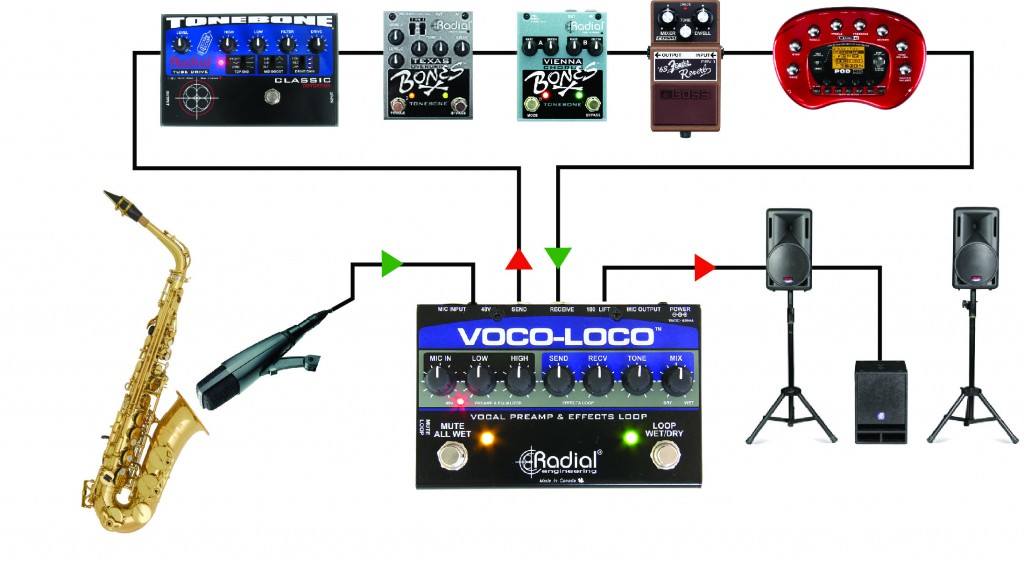 Measuring only 5″ x 7″ (12.7cm x 17.8cm), the Voco-Loco is exceptionally compact to fit on any pedalboard. It comes equipped with an external 15VDC supply.
The Voco-Loco is now shipping and retails for $300 USD.