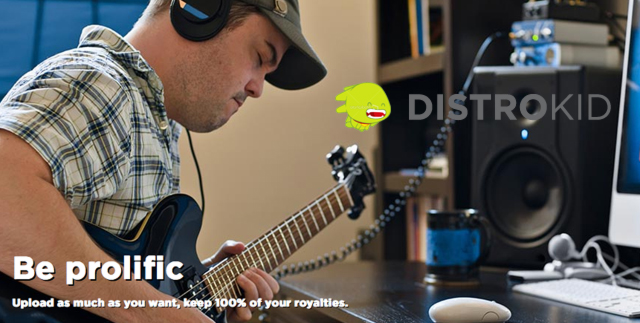 Publish Your Music On iTunes For Free!
MikesGig is supported by its audience. When you purchase through links on our site, we may earn an affiliate commission. Read the full disclosure HERE.
Well, for the first song anyway. DistroKid launches a new more affordable digital publishing platform for musicians.
DistroKid was founded by Philip Kaplan in late May, 2013. He's a web developer, programmer, and drummer in San Francisco, California who also runs Fandalism, which is one of the largest online communities of musicians.

The DistroKid website sports a very clean and straight-forward layout. It immediately offers a signup form with a claim that "your music will be in stores today." Well, they're not kidding. If you already have cover art and a compatible audio file you can easily complete the upload process in under 15 minutes for your first free song submission. The uploader was glitch free and shows progress and easy to follow prompts along the way. Just be sure that your art is in jpeg RGB format at 2500 x 2500 ppi. They take WAV (up to 24-bit, 96 kHz), MP3, AIFF, CDDA, MP4 (m4a), Windows Media (WMA), or FLAC files. You may want to submit your own 320 bit MP3 so that you can QC the conversion.
Key Points
Music placed on iTunes, Spotify, Google Play, and Amazon.
You keep 100% of your royalties and get paid monthly.
Most albums appear in iTunes within 2-4 hours of uploading (that's fast!).
First upload totally free. If you like them, you can pay $19.99/yr and upload unlimited songs.
Something Seams To Be Missing – But Its Not
Being a cdBaby user I was expecting a lengthy sign up form with paypal info and credit card info. None of that is required at signup. All you need is an email and a password that you provide. Once your music is sold you are alerted to provide your paypal info for payment. Smart!
Good Communications
Email alerts are sent to you every step of the way. First you get the welcome from Philip Kaplan that lets you know that your signup went OK. Then as you go through each process you get a separate email for artwork approval, song file approval, name approval and store submission. Once your song goes live you get an alert with a link to the corresponding page on iTunes, Amazon, Spotify and Google Play. My song was flagged for "manual review" which took about 3 hours – no problem.
Try DistroKid. You might like it. I did.
Thanks Philip!