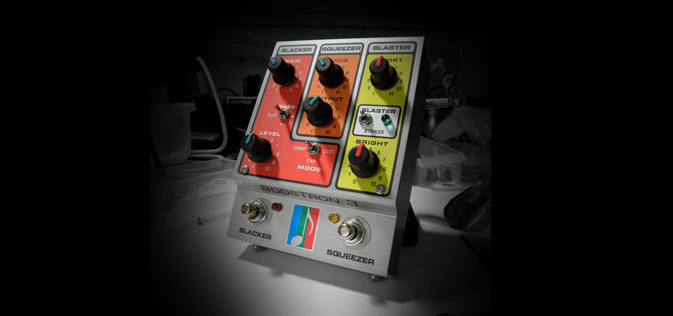 One Pedal To Rule Them All – The Mu-FX Boostron 3 Guitar Effects Pedal
MikesGig is supported by its audience. When you purchase through links on our site, we may earn an affiliate commission. Read the full disclosure HERE.
Mu-FX introduces the Boostron 3 multi-function all analog guitar stompbox at NAMM 2016
Mu-FX, born from the creator of the fabled Mu-Tron III, has returned to NAMM with a hot new stompbox for guitar. In a lighweight and robust aluminum enclosure, this pedal is packed with features that drive, overdrive and control your guitar and other pedals that are attached to it. The build quality and circuit quality are top notch and should provide years of sonic enjoyment with any guitar rig and type of music. I especially liked the Boostron 3 patched into the Mu-FX Tru-Tron 3 and Octave Divider pedals that created a functional guitar analog synth machine. Watch as Rand Anderson explains the features and demonstrates the pedal in the attached video.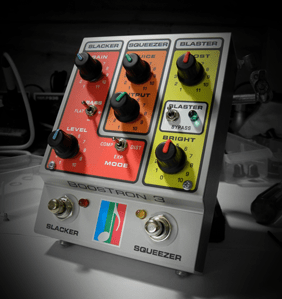 Based Upon a Trio of Classic Designs
The NEW Mu-FX Boostron 3 is three pedals in one… and three you might never want to turn off!
Stage 1: Based upon an Alembic Stratoblaster clean boost
Stage 2: Based upon a Musitronics/Dan Armstrong Orange Squeezer compressor
Stage 3: Based upon a ProCo RAT distortion
The Alembic Stratoblaster is a FET preamp that provides a clean boost. The original product was a retrofit guitar input jack with the (battery powered) effect built in – controlled by an on/off switch and a small adjustable trim pot for the desired amount of gain.
The Musitronics/Dan Armstrong Orange Squeezer is a very simple and distinctive sounding compressor. The original product was a small cube that plugged directly into your guitar (…unless you had a Strat!), powered by a 9V battery and was controlled by an on/off switch as well as an internal trim pot for setting the desired output level.
The ProCo RAT is an LM308 op-amp distortion that ranges from bluesy overdrive to full-out fuzzy distortion. The original product was a moderately sized effects pedal powered by a 9V battery.
The Mu-FX Boostron 3 provides added functionality to these classic effects all bundled in our "mini-mu" housing. Made in the USA, this new Mu-FX product combines visual and sonic cues from the past with a thoroughly modern, pedal board oriented approach.
Controls:
BLASTER

Boost controls the output level of the effect
Blaster On/True-Bypass switch determines whether the effect is on or off (true-bypassed)
Bright controls the amount of treble boost

SQUEEZER

Juice controls the amount of compression
Output controls the output level of the compressed signal

SLACKER

Gain controls the amount of gain in the distortion circuit
Bass Flat/-/+ Switch

Flat position is the normal tonality of distortion circuit
– position cuts bass frequencies from the distortion circuit
+ position boosts bass frequencies to the distortion circuit

Level controls the output level of the distorted signal
Comp/Exp/Dist Mode Switch

SQUEEZER footswitch determines whether the effect is on or off (true-bypassed)
SLACKER footswitch determines whether the effect is on or off (true-bypassed)
Specifications:
1/4 " True Bypass Switching Input Jack
FX Loop (1/4″ FX Send & 1/4″ Return Jacks)
1/4″ Output Jack
9V DC
Signal to Noise Ratio:
Input Impedance:
Nominal Input Level:
Output Impedance:
Nominal Output Level:
Maximum Output Level:
Case: 2mm aluminum
Weight:
Dimensions: 5.65″ x 4.05″ x 1.625″
1 Year Limited Warranty
Made in the USA to ISO 9001 Standard