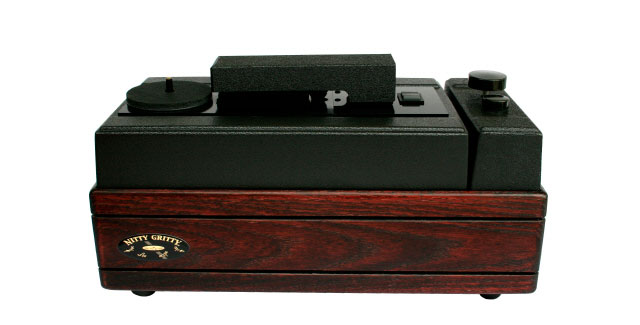 Nitty Gritty Record Cleaning System at T.H.E. SHOW Newport 2011
MikesGig is supported by its audience. When you purchase through links on our site, we may earn an affiliate commission. Read the full disclosure HERE.
Gayle Van Syckle, president and CEO of Nitty Gritty, demonstrates the 30th Anniversary Special Edition Mini-Pro at T.H.E. SHOW: (the home entertainment show) Newport.
Vinyl is alive – long live vinyl!
Interest in vinyl LPs– and acetate, 78s and 45s – is on the rise, but Nitty Gritty is no newcomer to the care and maintenance of phono platters. The company was founded in 1981 by audiophiles Ken Erickson, Michael Baskin and Elliot Buckler with the goal of providing professional record cleaning products at affordable prices. Ironically, this was one year before the the first commercial CD, Billy Joel's 52nd St., was released in Japan on October 1st, 1982. But this hasn't stopped the folks at Nitty Gritty from evolving and improving the art of record care and earning a CES Award for Design and Engineering in the process.
As I was setting up to shoot this video several enthusiastic owners of Nitty Gritty units came by to praise Gayle and the company on how happy they are with the product. As an owner and long-time user of vinyl myself, I understand that a thorough cleaning of a record before putting it on the turntable makes a huge difference in listening pleasure by reducing clicks and pops caused by debris in the grooves as well as "opening up" the sound that is masked by same. The Mini-Pro uses a simple yet effective combination of cleaning fluid, gentle scrubbing and vacuuming to get a disk into pristine "better than new" condition. They have manually operated machines with vacuums that start in the high $300 range. The top of the line Mini-Pro that automatically wets, rotates, scrubs and vacuums both sides at the same time retails from $1109. If you have a big collection, buy and sell a lot of records, or just want the optimum in performance from your valuable vinyl, you should give this a serious look.