Disclosure: I only recommend products I would use myself and all opinions expressed here are our own. This post may contain affiliate links that at no additional cost to you, I may earn a small commission. Read full privacy policy here.
Roland and Synthogy Team Up To Demonstrate MIDI 2.0 High Resolution Velocity at April NAMM 2023
At the Winter NAMM show in 1983, a Sequential Circuits Prophet 600 and Roland JUPITER-6 were connected together in the first public demonstration of MIDI.
40 years later at the April 2023 NAMM show that celebrated MIDI's 40th anniversary, The MIDI Association booth highlighted a number of prototypes of MIDI 2.0 including a working demonstration of a Roland A-88 MKII controller keyboard (with a special prototype firmware upgrade) connected to a Macintosh computer running the Ventura 13.3.1 operating system and  Logic 10.7.7  sending high resolution 16-bit velocity messages to Ivory 3, the latest software release of Synthogy's popular Piano softsynth. This historic event was the first public demonstration of a fully functional MIDI 2.0 ecosystem.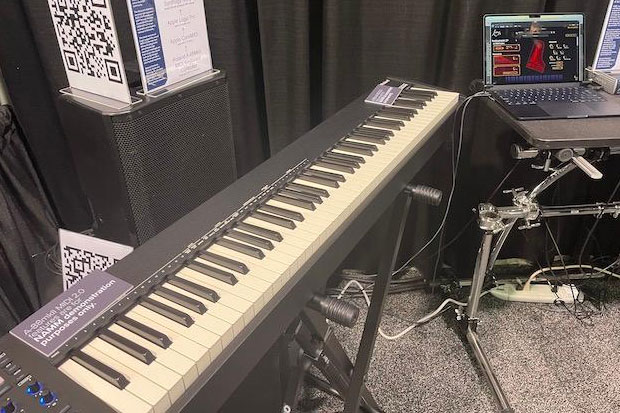 Whereas MIDI 1.0 emerged at the dawn of the computer revolution, MIDI 2.0 has begun with demonstrations of MIDI 2.0 running on all the major computer operating systems. In addition to macOS, the MIDI Association booth also featured working demos of ​​the Open Source Microsoft driver being developed by AMEI and MIDI Association member Amenote, Google Pixel phones running MIDI 2.0 hi resolution messages, a Linux computer running an ALSA driver developed by Takekashi Iwai from Suse and a prototype keyboard from Korg demonstrating the power of bi-directional auto configuration using MIDI 2.0 Property Exchange. 
In an impressive display of collaboration between companies that has always been at the heart of MIDI, these companies worked together to update Ivory, arrange prototypes and firmware upgrades, and enable the first public demonstration during the NAMM Show of a working MIDI 2.0 ecosystem at the MIDI Association booth at the front of Hall A. 
"It's been an honor to have Ivory 3 take part in the first public demonstration of MIDI 2.0," said Synthogy Co-Founder George Taylor. "MIDI 2.0 raises the bar for musical expressiveness, and we've designed Ivory 3's new RGB Engine to take advantage of this. Ivory 3 responds to all 65,536 MIDI 2.0 velocity levels by providing a smooth, stepless timbral progression from softest to loudest strikes. We're pleased to be on the forefront with MIDI 2.0 and provide our users with a state-of-the-art musical experience."
Paul McCabe, VP of Global Customer Experience for Roland and MIDI Association Executive Board Member comments "Roland is committed to supporting simple, expressive, and inspiring interconnectivity between musical instruments, computers, devices, and apps. For the recent NAMM Show we created a special version of firmware for our Roland A-88MKII MIDI Keyboard Controller to showcase the creative potential of MIDI 2.0, in collaboration with Apple and Synthogy. We are very encouraged by the response and will continue our efforts to bring MIDI 2.0 to life for creators around the world."
"MIDI has always been about cooperation and collaboration and the first public demonstration of MIDI 2.0 is a great example of MIDI companies from around the globe working together to make something incredible happen" said MIDI Association President and Yamaha MIDI Association representative Athan Billias.
*A-88 MKII Firmware upgrade not currently available to the public.