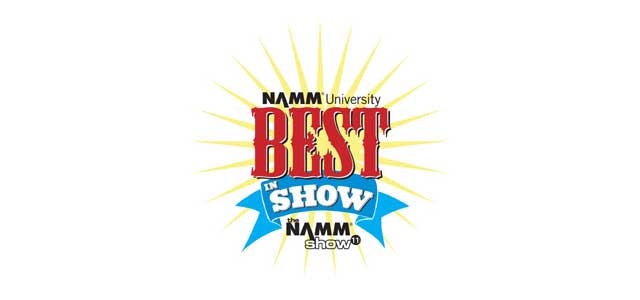 NAMM 2011 – Namm U Announces Its Best In Show
MikesGig is supported by its audience. When you purchase through links on our site, we may earn an affiliate commission. Read the full disclosure HERE.
Carlsbad, CA, January 16, 2011
The fourth day of the NAMM Show featured the much-anticipated annual "Best In Show" breakfast session, with Frank Alkyer, publisher of Music Inc. magazine and panelists Brad Boynton of Rhythm Traders; Gordy Wilcher of Owensboro Music; Brian Reardon of Monster Music; John Grabowski of Sweetwater Sound; Alan Friedman of Friedman Kannenberg & Company; Gayle Beacock of Beacock Music and Greg Billings of Steinway Piano Gallery.
Something Small
Gayle – Hinge Stixs, Big Bang Distributors, Booth 3564
Greg–The iKlip, IK Multimedia, distributed by Hal Leonard, Booth 4318
Brad–LP Finger Shot and the Qube, Booth 5720
Alan–Gemini Little Mini DJ Mixer, First Mix, Booth 5700
John–Focusrite VRM Box, Booth 6464
Brian–Superior Vocal Health, Booth 2593
Gordy–Crafter Guitar Humidifier 200 for Control System, Booth 1324
Gotta Stock It
Gayle–What Music Means to Me, Book & CD by Richard Rehino, Hal Leonard, Booth 4618
Greg–Rollicking Piano Bar, Hal Leonard, Booth 4618
Brad–Paiste Formula 602, Booth 3720
Alan–Alfred Publishing, The Complete Led Zeppelin for Guitar, Booth 4822
John–Korg Kronos, Booth 6440
Brian–Grip Studios, Booth 3082
Gordy–Kirlin Industries, Kirlin Cables, Booth 1770
Companies To Watch
Gayle–Minarik Guitars, Booth 1022, (The Lotus Guitar in particular)
Greg–QRS, PNOmation II, Booth 2088
Brad–Meinl, Booth 3454
Alan–Radial Engineering (Workhorse 500 Studio Rack) Booth 6959
John–Avid, Booth 6700
Brian–Tycoon Percussion, Booth 3570
Gordy–Two Old Hippies, Booth 4840
Best In Show
Gayle–Yamaha YSS-82Z Soprano Sax, Booth 6528
Greg–Roland V Piano Grand, Booth 7400
Brad–Zildjian's Gen 16, Booth 3050
Alan–Ernie Ball Game Changer, Booth 5440
John–David Smith Instruments/Roger Linn Designs Tempest, Booth 5900
Brian–Lâg Guitars, Booth 6440
Gordy–NAMM U at the Idea Center
Also at the Breakfast Session, NAMM announced the recipients of the 2010 Wanna Play? Awards, honoring companies outside of the music products industry whose advertisements inspire more people to make music. The recipients are:
An Honorable Mention was awarded to NAMM Member companies GE Capital and Taylor Guitars, for their collaboration on a TV ad called "Invested in Taylor Guitars."
All products, companies and services are selected by the Best in Show panelists. NAMM supports all its members and does not endorse any individual product, company or service.