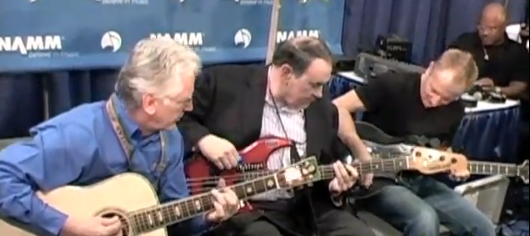 NAMM 2011 – Mike Huckabee Trio Jams at Media Preview Day
Def Leppard guitarist Phil Collen jammed with former Arkansas Gov. Mike Huckabee (on bass) at the Anaheim Convention Center in Anaheim, California NAMM 2011(National Association Of Music Merchants) show, a massive music-products convention that runs for 5 days.
MikesGig is supported by its audience. When you purchase through links on our site, we may earn an affiliate commission. Read the full disclosure HERE.
Close Enough for Government Work, and Rock N Roll!
From left to right; Dick Boak, Martin Guitar's Director of Artist and Public Relations, former Arkansas Governor and  2008 US presidential candidate Mike Huckabee and Def Leppard guitarist Phil Collen pound it out in the key of A for a delighted media audience.





Da Vinci Unplugged: Unveiled

Alongside an ambitious slate of new, innovative products that continue to push the largest producer of acoustic guitars in the U.S. to new heights, C.F. Martin & Co. (www.martinguitar.com) unveiled the 1.5 millionth Martin Guitar at the 2011 NAMM Show. Doak is playing it in this clip with his band mates.
Dubbed "Da Vinci Unplugged" over the past year and a half, the parts of this milestone guitar were carefully crafted at the Martin factory in Nazareth, PA, and then sent to expert luthier and inlay artist Harvey Leach, who designed the Leonardo da Vinci-inspired Mona Lisa headstock, Last Supper pickguard and Vitruvian Man back. Scrimshaw artist Bob Hergert then added his expert touch, including intricately engraved illustrations – based on an array of da Vinci drawings – to Style 45 hexagons that were cut from fossilized mammoth ivory and inlaid into the fingerboard and bridge wings. The guitar was then returned to Nazareth for final assembly, delicate Style 45 perimeter inlay, and finishing.
Jackson Phil Collen Signature

Collen's PC1 was one of the original Jackson® signature guitars; based on the Dinky™ model but featuring more exotic woods and the Jackson sustainer/driver system. The guitar he introduced on this stage is the PC Supreme Phil Collen Signature. This guitar is a beauty and sounded awesome through the Agile Partners' Amp Kit for iPad.
Huckabee attends show to promote music education
Former Gov. of Arkansas and TV commentator Mike Huckabee attended the NAMM Show to speak about the importance of music education for children and promote the new "I Wanna Play!" CD to help put instruments into the hands of all children.