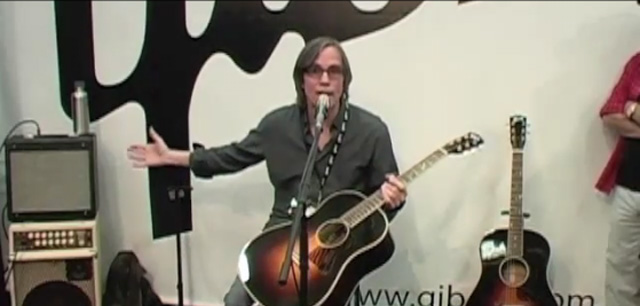 NAMM 2011 – Gibson Jackson Browne Signature Guitar Part 2
MikesGig is supported by its audience. When you purchase through links on our site, we may earn an affiliate commission. Read the full disclosure HERE.
This is part 2 of the NAMM 2011 press conference for the release of the Gibson Jackson Browne Signature acoustic guitar. Five years in the making-through a series of evolving prototypes-the handmade instrument was designed and is being produced at the Gibson Montana Acoustic MasterShop in Bozeman, MT.  Browne collaborated with master luthier Ren Ferguson and Robi Johns at Gibson Montana throughout the process.  It is the first guitar to bear Browne's name.
In this segment Jackson switches from the SWR California Blonde acoustic guitar amp to the Fender Pro Junior III guitar amp to illustrate how his signature guitar can work in any amp that you want. He uses two Pro Juniors on stage and recored with it in the studio on his latest CD. At about 42 seconds he sings a phrase from "The King is Gone" (So are You), a George Jones song written by R. Ferris. Unfortunately, this is the only singing that he did on this occasion.
He ended the press conference by thanking Gibson for the making the guitar and making it available to the public. At the end of the press conference he did take a few questions:
Q. What is the neck size compared to the original Roy Smeck?
JB. Here's the thing about the neck. It's a funny thing, because you know, the one that I got in '94 had this really wonderful "D" in it, and I still really like that. But evidently that's not as universally accepted. But some guys like to have that little something extra in the palm of their hand. These (JB Signature) have a very subtle "D" with a little bit of "V" up until about the 7th fret. And, as far as the neck size, the original Smeck's are quite a bit wider, they're really big. My friends in Spain really love this neck (the JB Signature is 1.805″ at the nut) because they've played on classical an flamenco necks their whole lives.
The JB Signature models with built-in Trance Audio Amulet pickups and electronics will be hand signed by Jackson.
You can see part one here.