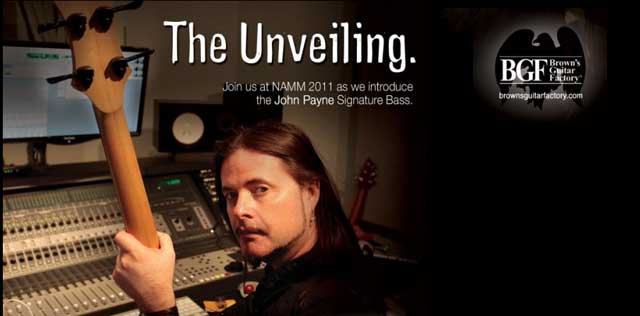 NAMM 2011 – Brown's Guitar Factory JOHN PAYNE Signature Model
MikesGig is supported by its audience. When you purchase through links on our site, we may earn an affiliate commission. Read the full disclosure HERE.

---

John Payne, lead singer and bassist with ASIA Featuring John Payne, will be performing daily in the Brown's Guitar Factory booth at NAMM in Anaheim this coming week.
January 13, 14 & 15 -1 PM & 4 PM
January 16-1 PM
John will be premiering his new signature bass. This is the most top secret product release of the show, no one is talking – we'll get you the details as soon as they are available.
I met John Brown at NAMM 2010 and played several of his instruments. The workmanship was superb and the model equipped with a Kahler bass tremolo system with acoustic and MIDI saddles was a gas to play. He is the inventor of the Fretted/Less bass and owns and operates a full guitar manufacturing and AAA/Gold-rated authorized repair and restoration facility, which is staffed by a team of talented luthiers. Brown is an innovator and supplies other builders with specialized luthiers tools that he has developed.