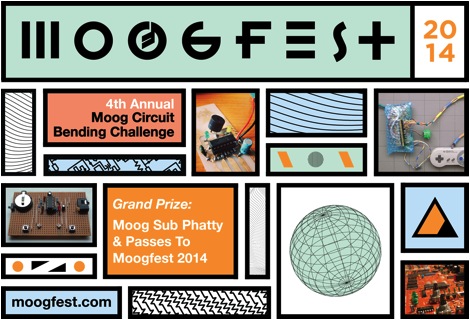 Moogfest and Moog Music announce 4th Circuit Bending Challenge
MikesGig is supported by its audience. When you purchase through links on our site, we may earn an affiliate commission. Read the full disclosure HERE.
Moog Music was born when a young Bob Moog started tinkering with electronic circuitry. As a boy, Moog built small radios, amps, and theremins in his basement workshop with his father and the rest is history.  This experimentation with the inner workings of electronic devices to create new sounds and effects has been developed into an art form known as circuit bending.
I met Bob Moog once. He was quite gracious when my band, Magik Dayze, stopped at the Moog factory in New York State unannounced. We were on a road trip through Ohio, Pennsylvania and New York that took us through the rolling Great Lakes wine region to Syracuse and Rochester. Our keyboard player realized that we were near Moog and convinced us to stop by. I'm glad that we had a chance to meet Bob and get a factory tour from the creator of the Minimoog and Taurus that we used in our music. He was actually quite touched that we took the time to stop by.
Circuit bending is a creative medium that combines technology, sonic artistry and creativity. By altering the internal circuitry of electronic devices such as keyboards, drum machines, and children's toys, circuit benders are able to produce new sounds not intended in the original design.
In celebration of this creative curiosity that fueled a young Bob Moog and all of those that follow in his footsteps, Moog is sponsoring its 4th annual circuit bending contest.
This year, Moog's circuit bending contest is challenging entrants to take a battery powered device and circuit bend it into an instrument capable of creating new and unique sounds for a total budget of $70 or less.
Entrants will create and post videos on YouTube featuring their completed instruments and documenting the process of their creation. Moog will select three finalists and invite them to showcase their creations at Moogfest in April of 2014 where Moog's judges and the general public will decide a winner of the contest.
Grand Prize: Moog Sub Phatty & Two Passes to Moogfest 2014
2nd Place: Moog Slim Phatty & Two Passes to Moogfest 2014
3rd Place: Moog Minitaur & Two Passes to Moogfest 2014
More information on the contest and a full list of rules for entries can be found at www.moogfest.com/circuit-bending.
Stay updated on Moogfest through www.moogfest.com and on Facebook at www.facebook.com/moogfest.
*Actually, soldering isn't required. You can use any medium you wish in order to bend your device including (but not limited to) bubble gum, bottle caps, foreign currency, used chopsticks, unicorn hair, or a really cool hat.
About Moogfest:
Since 2004, Moogfest has been a gathering for the musicians that worked closely with Bob and his instruments.  In 2014, Moogfest is amplifying its vision and becoming a 5-Day event dedicated to the synthesis of technology, art and music. Moogfest honors the inventiveness of Bob Moog and the legacy of the analog synth with an experimental line up of daytime conference programming and landmark nightly performances. Moogfest takes place April 23-27th, 2014 in downtown Asheville, NC. To learn more, visit www.moogfest.com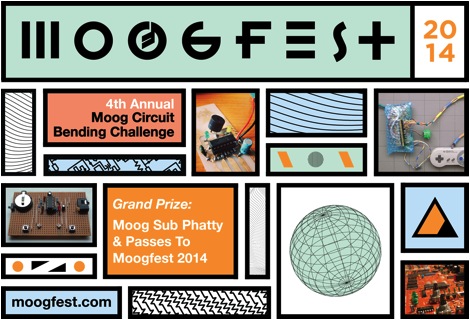 About Moog Music:
Moog Music is the leading producer of analog synthesizers in the world. The company and its customers carry on the legacy of its founder, electronic musical instrument pioneer, Dr. Bob Moog.  The company hosts Moogfest, a five-day festival celebrating the intersection of music and technology in honor of Moog's innovative spirit. All of Moog's instruments are hand built in its factory on the edge of downtown Asheville, NC. To learn more, visit
www.moogmusic.com