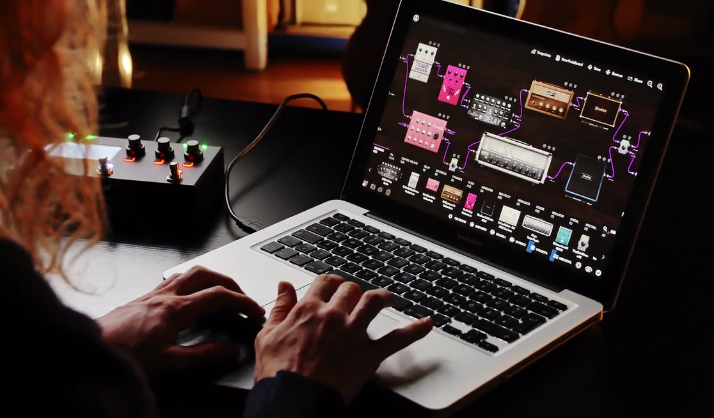 Mod Devices Announces The Mod Dwarf Project Via Kickstarter
MikesGig is supported by its audience. When you purchase through links on our site, we may earn an affiliate commission. Read the full disclosure HERE.
MOD Devices, an audio-tech innovator in the European market, announced the Kickstarter campaign for their upcoming entry-level modular effects processor. The small, smart unit is powerful enough to house an endless array of effects, virtual instruments, MIDI utility, and numerous hardware connections to suit every musician out there. The Dwarf is scheduled for release in Q4 of 2020 and aims to pre-sell 1000 units in its first round of production. 
The MOD Dwarf will offer all the flexibility of a computer, with the convenience and toughness of a standalone device in a compact, gig friendly footprint. It features two independent audio channels, each equipped with independent gain controls, USB-MIDI, and Mini MIDI Jacks for seamless live performance and studio applications. Three fully assignable knobs, three footswitch, and three pushbuttons make the MOD Dwarf a flexible powerhouse at your feet or your fingertips. If that's not enough, the MIDI learn function allows the unit to be manipulated by any class-compliant controller in the market.
This follows the global retail debut of the MOD Duo X, an audio processing gamechanger for electronic performers and DJ's. Its extensive capabilities include a 15. GHz Processor, fully customizable controls, MIDI connectivity and CV I/Os With 8 knobs, four pushbuttons, pagination function and access to the entire MOD plugin library. The flagship desktop unit is ideally suited for electronic producers, performers, and DJs.
MOD users have access to more than four hundred free and commercial plugins at the MOD Plugin Shop, created by independent and renowned developers, All the plugins can be patched with matchless flexibility using the browser-based a visual interface that allows the user to split, join and even feedback signals in a modular fashion. All the creations can be saved, uploaded to the cloud, and used anytime without the necessity of a computer. Supported by a strong open-source community, the gallery is always growing.

"Our products are developed to solve real musicians' problems, not to beat demands coming from specific market categories. We create a box musicians can open to achieve their sonic ambitions, whatever they are – first with the MOD Duo and Duo X and now with the Dwarf, for a more hands-on approach for a great price." Says Gianfranco Ceccolini, MOD Chief Executive Officer and Founder.
Dwarf Key features
Two fully independent audio channels, each with separate gain control allowing for any instrument or signal plugged in. 

Modular patching: split, join, feedback and rearrange your signal chain freely.
More than four hundred free plugins available in the online Plugin Shop.
Standalone PX30 Rockchip Quadcore, 1.5GHz audio processor
Mini Midi Jacks and USB-MIDI expandable with any USB-Hub. Class-compliant MIDI Learn.
Designed for using both standalone or assisted by a computer for intensive creative patching.
3 Knobs, 3 push buttons and three footswitches fully assignable to any parameter.
Single large LED screens for maximum visual feedback.
Customizable User Profile slots for several plug & play scenarios.