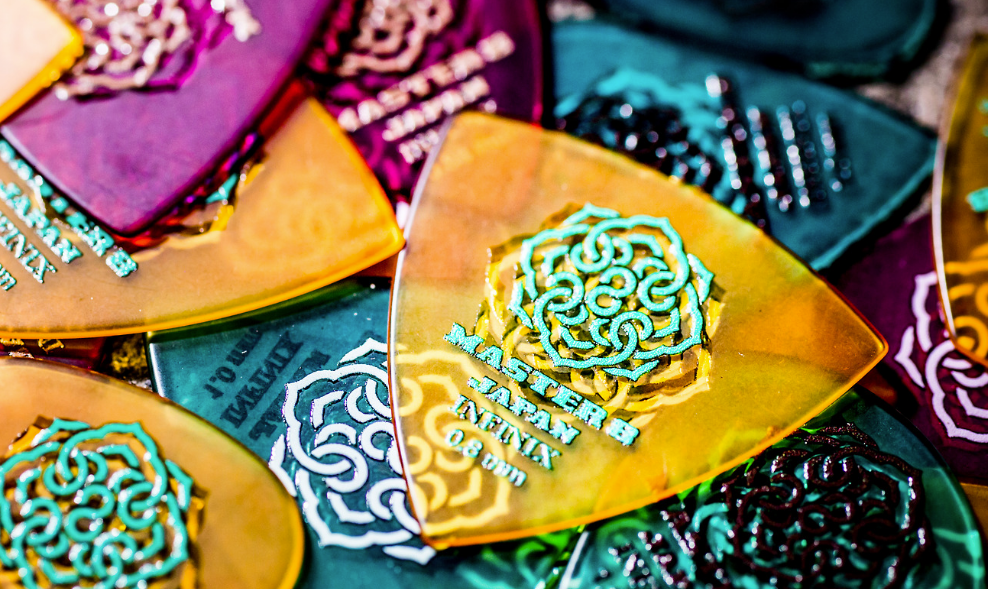 Master 8 Japan Introduces New Guitar Picks at NAMM 2020
MikesGig is supported by its audience. When you purchase through links on our site, we may earn an affiliate commission. Read the full disclosure HERE.
Master 8 Japan is a guitar pick brand of IKEDA PICKS, the largest guitar pick manufacturer in Japan. The brand develops innovative pick designs in its own factory with unique specs and new materials.
INFINIX With Hard Grip
INFINIX is a next-generation pick material from Master 8 Japan. This special type of plastic used for the first time in guitar picks has excellent flexibility, shape memory and abrasion resistance. It makes less pick noise compared to traditional pick material. Abrasion resistance allows the pick to perform consistently throughout its life. The touch is similar to tortoise shell and it adheres well to the fingers. There are two models – the regular and the hard grip that has a special sandpaper-like coating in the grip area.
INFINIX Hard Polished With Rubber Grip
This pick has a rounded edge surface and maintains abrasion resistance and minimum pick noise that creates a milder and big-boned sound. It also adopts the new Rubber Grip which is the next level in slip prevention. The lineup also includes our first thumb picks.
Mikes Notes:
Look for my full review in the near future. These picks are innovative and you can really feel the difference in grip compared to other picks on the market. The shapes are not that different from other manufacturers – they come in small, standard and large triangle sizes – but the color and feel of the plastic and different grip surfaces set them apart. I'm really curious to see how they sound and if they live up to the promise of lasting a long time.
Where to Buy: