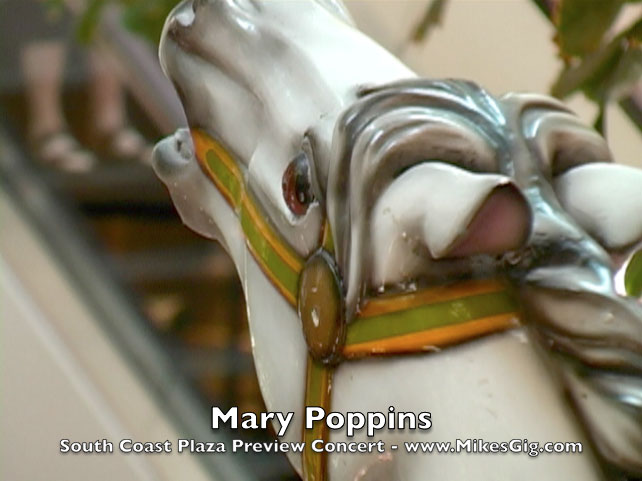 Mary Poppins Free Concert at South Coast Plaza
MikesGig is supported by its audience. When you purchase through links on our site, we may earn an affiliate commission. Read the full disclosure HERE.
Another in the continuing series of mini-concerts presented by Segerstrom Center for the Arts and South Coast Plaza
An enthusiastic crowd of youngsters with their parents, shoppers and office workers on lunch break were on hand to greet the cast of Mary Poppins at Carousel Court today. This was the largest crowd yet for these South Coast Plaza shows – of course it is summer. This production, which had its start in London in 2004, is set to begin performing at Segerstrom Center for the Arts on July 14 for a 3 week engagement.
Segerstrom Center for the Arts is unique as both an acclaimed arts institution and as a multidisciplinary cultural campus. It is committed to supporting artistic excellence on all of its stages, offering unsurpassed experiences, and engaging the entire community in new and exciting ways through the unique power of live performance and a diverse array of inspiring programs. Previously called the Orange County Performing Arts Center, Segerstrom Center traces its roots back to the late 1960s when a dedicated group of community leaders decided Orange County should have its own world-class performing arts venue.
As Orange County's largest non-profit arts organization, Segerstrom Center for the Arts owns and operates the 3,000-seat Segerstrom Hall and intimate 250-seat Founders Hall, which opened in 1986, and the 2,000-seat Renée and Henry Segerstrom Concert Hall, which opened in 2006 and also houses the 500-seat Samueli Theater, the Lawrence and Kristina Dodge Education Center's studio performancespace and Boeing Education Lab. A spacious arts plaza anchors Segerstrom Center for the Arts and is home to numerous free performances throughout the year as part of Segerstrom Center for the Arts' ongoing Free for All series.
The Center presents a broad range of programming each season for audiences of all ages from throughout Orange County and beyond, including international ballet and dance, national tours of top Broadway shows, intimate performances of jazz and cabaret, contemporary artists, classical music performed by renowned chamber orchestras and ensembles, family-friendly programming, freeperformances open to the public from outdoor movie screenings to dancing on the plaza and many other special events. It offers many education programs designed to inspire young people through the arts. These programs reach hundreds of thousands of students of all ages with vital arts-in-education programs, enhancing their studies and enriching their lives well into the future. In addition to the presenting and producing institution Segerstrom Center for the Arts, the 14-acre campus also embraces the facilities of two independent acclaimed organizations: Tony® Award-winning South Coast Repertory and a site designated as the future home of the Orange County Museum of Art.
Segerstrom Center for the Arts is also proud to serve as the artistic home to three of the region's major performing arts organizations: Pacific Symphony, the Philharmonic Society of Orange County and the Pacific Chorale, who contribute greatly to the artistic life of the region with annual seasons at Segerstrom Center for the Arts.