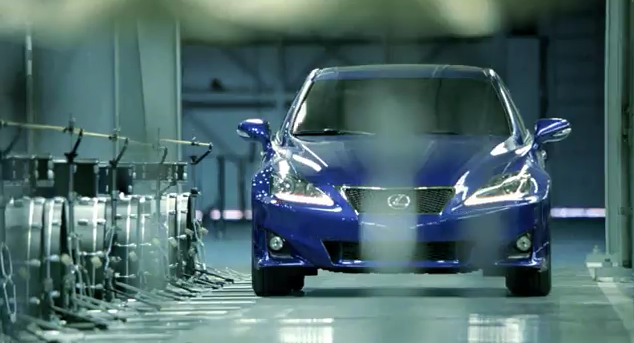 Making the 2011 Lexus IS: MUSIC TRACK Commercial
MikesGig is supported by its audience. When you purchase through links on our site, we may earn an affiliate commission. Read the full disclosure HERE.
by Matthew C. Miller on Sep 8, 2010 at 12:00 AM
R&R Engage
So you've already called your Lexus dealer to reserve your new 2011 IS 350, in hero blue, no doubt. Now your just spending the night getting up to speed on all the cool features, from the racing-inspired paddle shifters to the 306 horse-power, to the F-sport tuned suspension to the trigger-pad-powered kick drums, snares and hi-hats. What?
Yea, "the basic idea is cars playing drums. Cars playing a rock n' roll drum track." Now, that sounds like my kind of car!
Sadly, a drum set is not included with the new Lexus, but you can live vicariously through the crew that had the maddening yet thrilling job of doing the math and working out all of the arduous bits required to make this commercial a success. It all equaled out to 155 beats per minute. Sounds simple enough, but it actually took an entire crew of people from drum tech Todd Burr to the Chair of Mathematics at LMU, Dr. Curtis D. Bennett, PHD to get it all worked out. It also took the precision driving of the non-musical Eddie Braun, who can now say he's played an instrument – with a 2011 Lexus IS.
Moral of the story: "The Placement of the Drums is a Mathematical Thing."
Directed by Kevin Fitzgerald
Production designer Paul Martin
Chair of Mathematics at LMU, Dr. Curtis D. Bennett, PHD
Eddie Braun, Precision Driver
Drum Tech Todd Burr
Anaheim, January 16, 2011—At the Breakfast Session, NAMM awarded this commercial a 2010 Wanna Play? Award, honoring companies outside of the music products industry whose advertisements inspire more people to make music.