Maestro Original Collection Effects Pedals Shape Artist Sounds Around The World
MikesGig is supported by its audience. When you purchase through links on our site, we may earn an affiliate commission. Read the full disclosure HERE.
For over 60 years Maestro has been "effecting" popular music starting with the first commercially successful fuzz guitar pedal in 1962
From London's The Rolling Stones to The Black Keys in the U.S., artists from around the world have been relying on Maestro's trailblazing sound since its inception in 1962. The same holds true today, as musicians on a global scale welcome the brand's newest collection of pedals into their studios and live setups.
In France, musician PV Nova has been relying on his new Maestro pedals for several projects. From an influential online career popularizing music writing and editing to creating Internet Orchestra, the largest webcasting performance of 500 musicians, along with being a member of the band for the French musical "Les Franglaises," Nova is constantly surrounded by music. When presented with the Maestro Original Collection, he loved the impact they had on his workflow. "I am so pleased with the pedals," he explains. "Having true analog effects makes a huge difference when recording." Most recently, Nova did a live test of all five new pedals on his Twitch show, where he explained how Maestro will now be integrated among his primary gear on tour.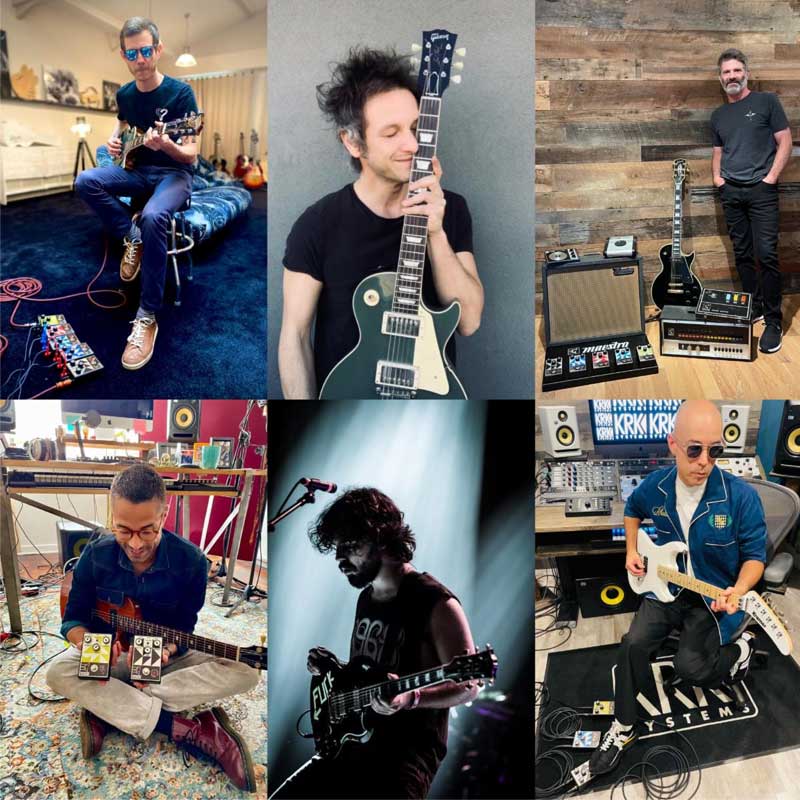 As one-half of the Colombian rock band Diamante Eléctrico, guitarist Daniel Alvarez has always been motivated by making great music and approaching it with simplicity. In fact, years of working in different ensembles are what made Alvarez and his bandmate Juan Galeano go back to basics and what they know best: rock and roll. Today, those same concepts are what Alvarez loves about his new pedals from the Maestro Original Collection. "They're simple, user-friendly, and have the exact sound you expect when you see the name Maestro on top," he says. "The knobs on the Fuzz-Tone FZ-M help you dial up a dense but tamable fuzz with a high-end tone, and the Discoverer Delay has the right amount of presence to give new colors to your music. From the moment I plugged them in, I knew they would stay on my pedalboard."
What was the first Maestro Fuzz Tone?
Gibson's Maestro FZ-1 Fuzz-Tone was the first widely marketed fuzz distortion guitar and bass effect. Introduced in 1962, it achieved widespread popularity in 1965 after the Rolling Stones guitarist Keith Richards prominent use of the FZ-1 on the group's hit, "Satisfaction". Later in 1965 Gibson made slight modifications to the design, designated as the model FZ1-1a. In the wake of the success of the Rolling Stones' "Satisfaction," numerous recordings mostly from 1960s garage rock and psychedelic acts featured Maestro Fuzz-Tones on guitars. After 1967 Gibson made much more significant changes to the design and over the years released different renditions of the Fuzz-Tone. In the 1990s Gibson re-issued FZ-1a, but it was later discontinued.
Where to buy:
Other artists rocking Maestro's new line of pedals include Jaquire King from the U.S., Alejandro "Grizzly" García from Spain, Carlos Chairez from Mexico, and Giuvazza Maggiore from Italy.