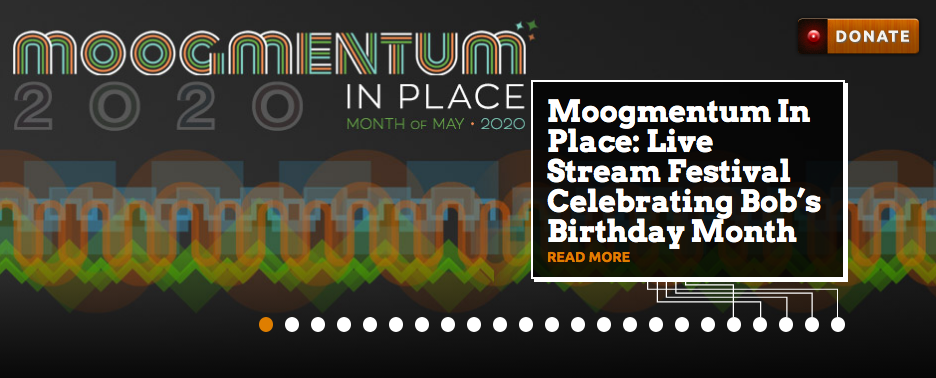 Live Streaming Events Presented by the Moog Foundation for the Month of May
MikesGig is supported by its audience. When you purchase through links on our site, we may earn an affiliate commission. Read the full disclosure HERE.
The Bob Moog Foundation is excited to announce Moogmentum in Place, an upcoming series of fundraising live stream events.
The performances will take place from May 9th- May 31st and will celebrate Bob Moog's 86th birthday and the one year anniversary of the Moogseum, both of which occur on May 23rd. Moogmentum In Place will feature performances, musical and technical insights, and question and answer sessions with a prodigious and varied group of legendary musicians and music technologists. All events will be streamed from the Foundation's Facebook page where attendees from around the world will have the opportunity to donate in any amount.

Moogmentum In Place will feature film composers and synthesists Alex Wurman (May 9th) and Michael Whalen (May 17th), renowned keyboardist and musical director Greg Phillinganes (May 15th), former Earth, Wind & Fire keyboardist Larry Dunn interviewed by Jerry Kovarsky (May 21st), theremin virtuoso and music technologist Randy George (May 23rd), and electro-acoustic violist/composer Martha Mooke (May 28th). A virtual tour of the Moogseum and other events are also planned. Further information about each event will be released the week prior to it occuring.
"I can't think of a better way to celebrate my father's birthday and the anniversary of the Moogseum than to share an exploration of the Moog legacy through music, educational insights, and inspiration," noted Michelle Moog-Koussa, Executive Director of the Foundation. "We are deeply grateful to all of the musicians who are donating their time and talents to help share the transcendental power of music with a worldwide community during this difficult time, and to help raise much-needed funding for the Foundation due to the closing of the Moogseum in mid-March."
 
Further details about Moogmentum In Place can be found on the Foundation's Facebook page and website, both of which will be updated as more events are confirmed.
About the Bob Moog Foundation 
 
The Bob Moog Foundation is a 501(c)(3) non-profit organization whose mission is to ignite creativity through the intersection of science, music, history, and innovation. The Foundation's hallmark educational project, Dr. Bob's SoundSchool, is an innovative, experiential ten week curriculum that teaches children the science of sound through music and technology. The Foundation's other focus is the preservation of history through their work with the Bob Moog Foundation Archives, a collection of rare schematics, instruments, photos, planning notes, prototypes, and more. 
The Bob Moog Foundation is not affiliated with Moog Music, Inc.