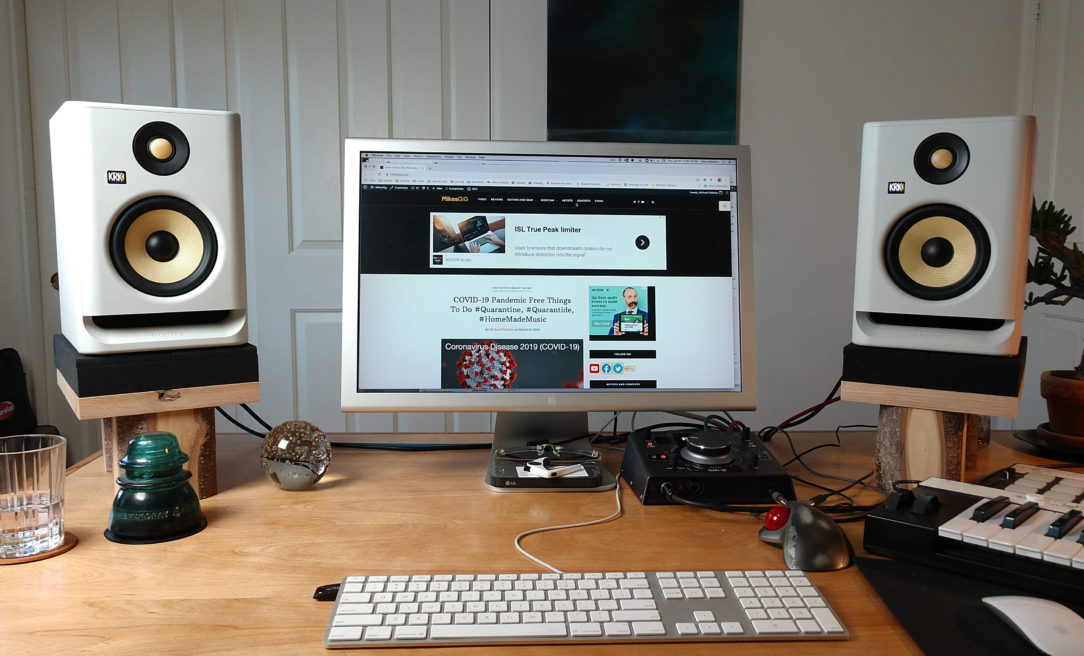 KRK Rokit 5 G4 White Noise Monitor Review
MikesGig is supported by its audience. When you purchase through links on our site, we may earn an affiliate commission. Read the full disclosure HERE.
Now available in white, the KRK Rokit 5 G4 monitor is one of the best values in near-field studio monitors.
Launched by KRK Systems in late 2019, the White Noise series delivers the same specs and components of the Rokit G4 line but in a limited edition white cabinet. With excellent specs and tone-shaping via an onboard DSP they are a joy to listen through. Available as a 5″, 7″, or 8″ model, this review will feature the KRK Rokit 5 G4 5″ studio monitor.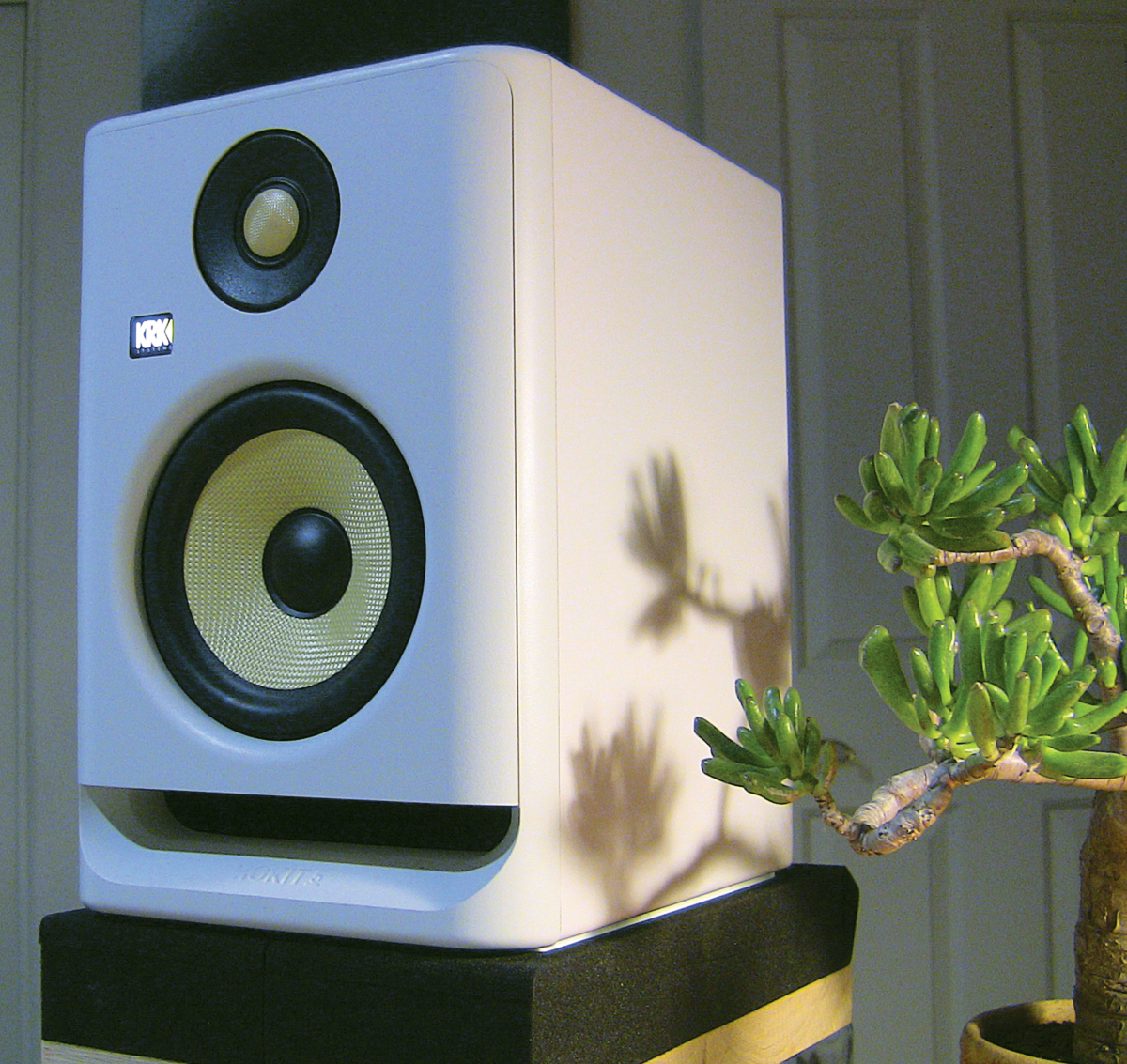 Like Playing Baseball In A Snow Storm
Well, not exactly. These "White Noise" monitors tend to disappear on the desktop compared to a black monitor. Especially in my small space, they are quite unobtrusive the way they blend into the background of my off-white walls and natural wood desktop.
How White Are They?
The Rokit 5 G4 White Noise monitors are not blinding white or glossy – or noisy! The matte finish front baffle is made from sturdy molded ABS plastic and the color is an attractive off white with a faint gray/green tint. The rest of the cabinet, made of high-grade MDF in a plastic skin, is off white matte with a slight neutral gray tint. They blend in nicely with the silver and white color of my Mac monitor and keyboard. And of course, you've got the trademark KRK yellow speaker cones.
Big Sound In A Small Package
These bi-amped monitors go loud – good loud. In a near-field listening position in a small room these could be the only monitors you'll ever need. And at a 7.48″ wide by 9.49″ deep they don't take up much real estate. The bass output will be adequate for most users, but if you really want to feel the music, a sub woofer like the KRK 8s would do the trick. Don't get me wrong, I'm a bass player and found the low end punch and output from the front-firing bass port to be quite good.
Built-In Tone Shaping
Unless you are designing and building your studio from scratch, your room won't be perfect and speaker placement will be a compromise. With the aid of the KRK Audio Tools App, which you can download for free, I was able to get the output and response curve that I wanted in my listening position. The DSP-driven Onboard EQ with Visual LCD on the Rokit monitors allow some tone sculpting and a volume control, among other features. Of course, I have mine set with the +2db shelving boost at 60Hz.
Where to buy:
DSP-driven Onboard EQ with Visual LCD features
VOLUME KNOB is set at the factory to +4 dBu input sensitivity. Increase/decrease in .1 dB steps
LOW EQ
1. L. SHELF Cut -3db at 60Hz
2. L. SHELF Cut -2db at 60Hz, L. PEQ parametric wide Q -2db at 200Hz
3. FLAT
4. L. PEQ parametric wide Q -2db at 200Hz
5. L. SHELF Boost +2db at 60Hz
HIGH EQ
1. H. SHELF Cut -2db at 10kHz
2. H. SHELF Cut -1db at 10kHz, H. PEQ Cut -1db at 3.5kHz
3. FLAT
4. H. SHELF Boost +1db at 10kHz, H. PEQ Boost +1db at 3.5kHz
5. H. SHELF Boost +2db at 10kHz

Other features include: DSP control screen adjustments, glowing KRK logo adjustments, and a STANDBY function to put the monitor to sleep when not in use. Very cool.
How Do They Really Sound?
Without throwing out too many adjectives – tight, punchy, focused, transparent and non-fatiguing at moderate volumes for long periods of time. Not overly or underly anything. I put on all types of music – Steely Dan, Ray Charles, Beethoven, Beatles, Stevie Wonder, Norah Jones, Notorius BIG, Bonnie Raitt, Howlin Wolf, Rage Against The Machine – all sounded great with a good separation of instruments.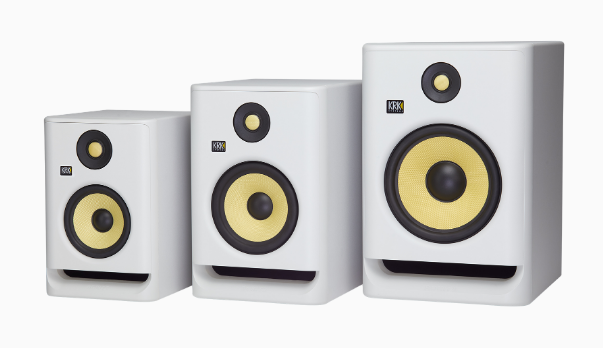 ROKIT 5 G4 5″ Near-Field Studio Monitor Specs
Frequency Response 43Hz – 40KHz
Max SPL 104dB
Power Output 55 Watts (bi-amped system. LF – 35 Watts / HF – 20 Watts)
Input Impedance 5.12KΩ Balanced
Balanced TRS/XLR Combo Jacks
Height 11.22″ / 285 mm
Width 7.48″ / 190 mm
Depth 9.49″ / 241 mm
Weight 10.69 lb / 4.85 kg
3 year limited warranty
Street Price: $179 each
Where to buy: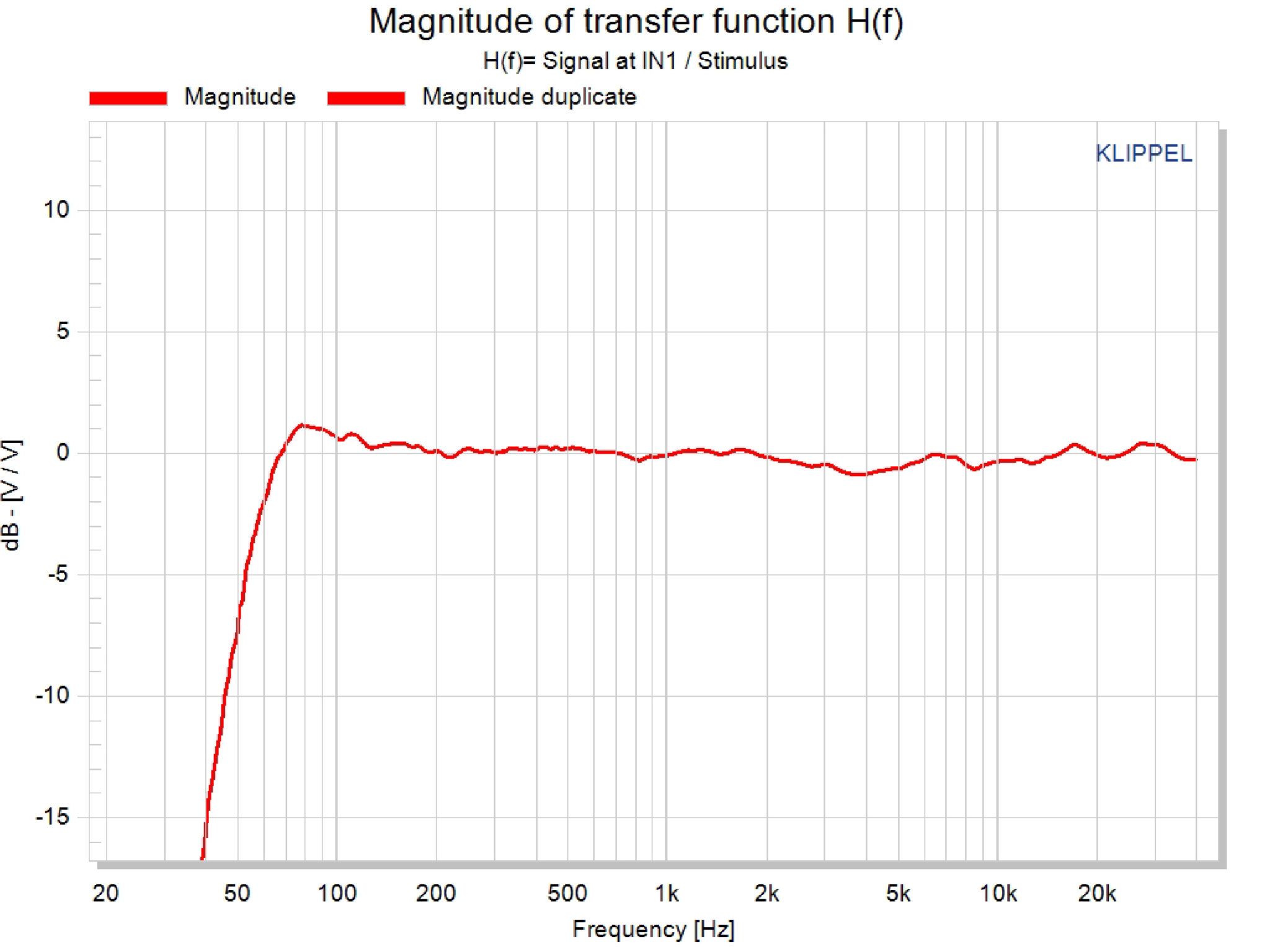 Construction
Matching Kevlar® Drivers ensure the same sonic integrity across all frequencies, minimizes listening-fatigue, and offers unprecedented clarity and sound reproduction.
DSP-driven Onboard EQ with Visual LCD. Graphic EQ with 25 settings help condition your acoustic environment while offering new levels of versatility in a studio monitor.
Removable front baffle and port molded from ABS plastic.
Cabinet made of high-grade MDF.
Scientifically Designed Enclosure with a newly-designed front-firing port.
High density open cell acoustic Iso-foam pads decouple the speaker from the surface.
Available front baffle security grill.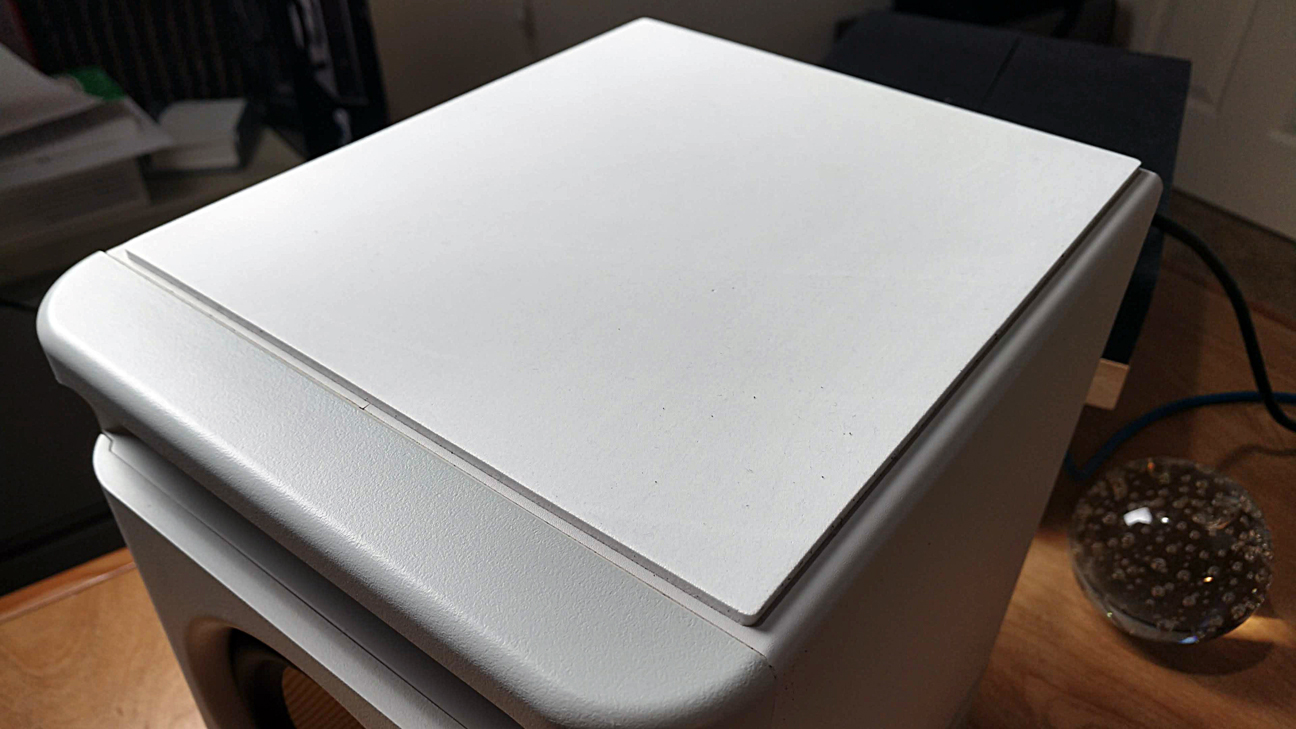 Where to buy:
The Bottom Line
These are very accurate and smooth sounding nearfield studio monitors. High confidence mixing and mastering any kind of music. Look great in white – or get the black ones for the same wonderful sound.