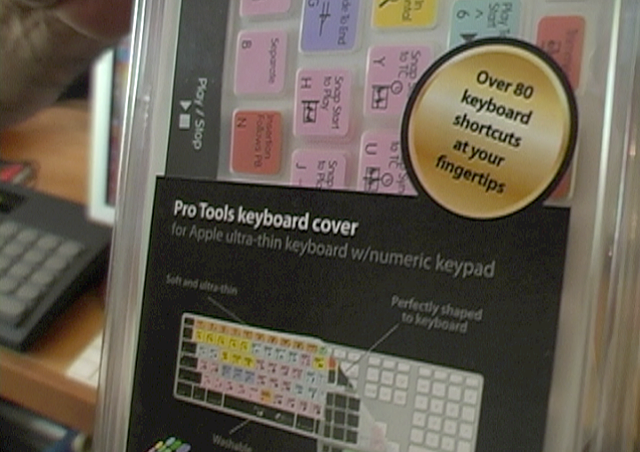 KB Covers keyboard cover for Pro Tools
MikesGig is supported by its audience. When you purchase through links on our site, we may earn an affiliate commission. Read the full disclosure HERE.
This siliconized rubber skin makes slick work of finding your keyboard shortcuts.
For years we had two choices for navigating shortcut commands in Pro Tools – buy a dedicated Pro Tools keyboard, or memorize your moves. Both of these options have drawbacks – in one case you may find yourself plugging and replugging different keyboards to match your workflow, in the other you rely on your memory, fumbling for the right keys. Enter KB Covers keyboard covers. In my work flow where I might use Pro Tools, Photoshop, Final Cut and various other applications in a normal day, the ability to easily change skins for shortcuts means an increase in production efficiency.
The Pro Tools cover provides "over 80 keyboard shortcuts at your fingertips" according to KB. To get the shortcuts to work properly you'll have to read the Pro Tools manual and follow the instructions to deactivate OSX shortcuts that conflict with Pro Tools keystrokes. Once you do this and get used to the look of the keys, using the shortcuts is a snap. In Pro Tools go to Help> Pro Tools Shortcuts, for a lengthy list of all shortcuts available. I have found using shortcuts in Pro Tools to be a daunting task – but with the KB cover I think I can get the hang of it.
The covers have a silky "barely there" feel to them, and according to KB, they are washable and the paint will not chip. To test the resiliency of the material I stretched it several times in both directions and it snapped back into shape with no sign of deformity. Of course, only time will tell how it will hold up under daily use-or abuse. At $39.95 retail for the Pro Tools skin, I would expect it to last several years – and that would be a good value. The packaging is made of hard plastic and can be used as a storage case for the cover when not in use.
From the KB home page:
KB Covers is dedicated to providing the finest quality keyboard covers for Apple/Mac desktop and laptop computers. All our covers are ultra-thin and made with the highest quality silicone available. Our keyboard covers are made with stringent Quality Assurance methods, which help to ensure a tight fit, long-lasting durability, no paint cracking/chipping, a soft-feel, and ultimately a happy customer.
KB Covers are designed to fit all Apple/Mac keyboard layouts around the world, including US keyboard, European ISO keyboard, and Japanese JIS keyboard layouts. Since each cover is designed to fit the Mac keyboard you own, they will not slip or move around when typing.
KB covers makes product for many Apple computers, ipads and iphones with an emphasis on DAW, photo and video software as well as keyboard protectors in various colors and several specialty applications. As they say, "KB Covers have you covered".