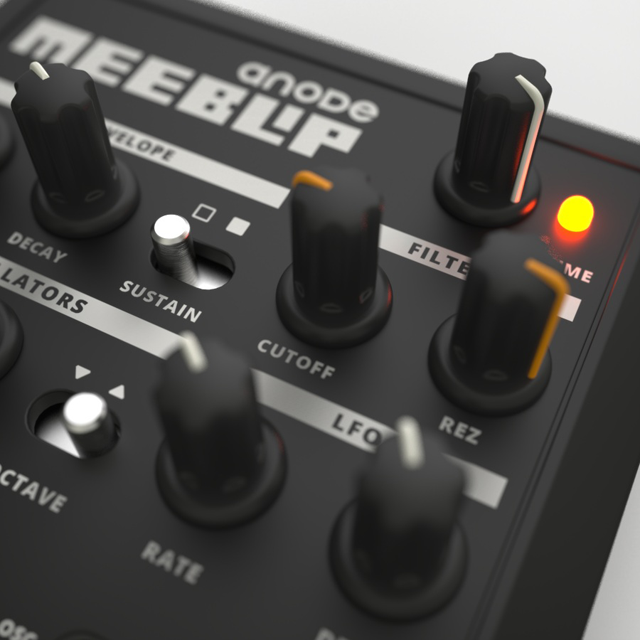 Introducing MeeBlip anode: A compact bass synth with analog filter
MikesGig is supported by its audience. When you purchase through links on our site, we may earn an affiliate commission. Read the full disclosure HERE.
Blipsonic and CDM (createdigitalmusic.com) today announce MeeBlip anode. Combining an analog filter with unique digital sound sources, all in an easy-to-understand, compact sound package, it's synth hardware anyone can enjoy immediately.
The all-new MeeBlip anode is part analog, part digital, capable of producing a range of uniquely aggressive, bass-heavy sounds. And inspired by the best classic synths of the past, getting your hands on that sound is always simple, direct, and intuitive. Simply plug in a keyboard, computer, iPad (via adapter), or controller via the MIDI port to play notes. Then, adjust sounds via knobs and switches – you don't need to navigate a single menu.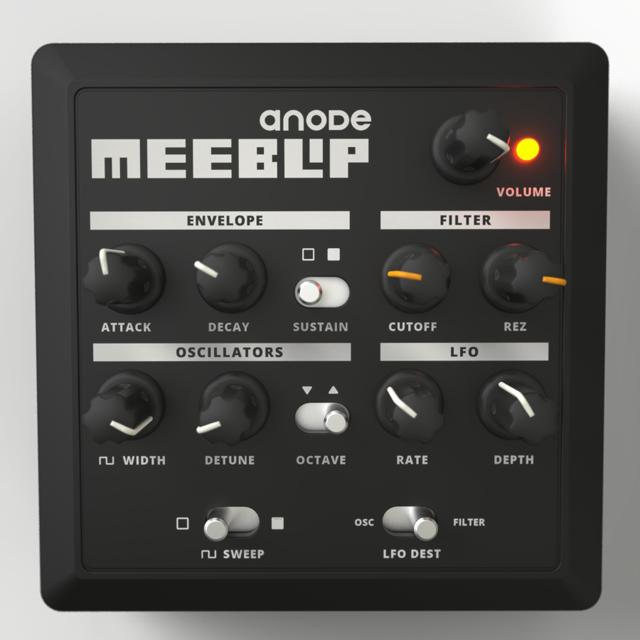 Its digital side reproduces the sound and architecture of classic synthesizers, but with an emphasis on adding personality, especially in the low end. Its all-new analog filter with resonance can range from smooth to raunchy – perfect for shaping sound or making squelchy basslines.
Primary features:
Unique 8-bit oscillators meet an original analog filter
Compact, 4" x 4" case (approx. 100 x 100 mm)
Modulation, envelope, tuning, and pulse width controls
Open source hardware, but fully-assembled and ready to play
MIDI input for compatibility with vintage and modern hardware, computers, and (with a compatible adapter) iPad and iPhone
Anode comes fully assembled and ready to use. But because it's open source hardware, users can learn from anode by looking through the code and circuits, modifying how it works, or even creating their own instruments based on the design.
MeeBlip anode is available direct from the manufacturer. Pricing:
North America: US$129.95
Europe: 129.95€ / £109.95 including VAT
Complete specifications
4″x4″ compact, rugged and road-worthy case.
Total hands-on control via full-sized, great-feeling knobs and switches. No "shift" switches or menus to navigate: get directly to the sound.
Dual digital pulse oscillators, derived from the original MeeBlip. Aliasing at the low end, anti-aliasing at higher ranges, for perfect bass sounds and terrific leads alike.
An original, all-analog filter with resonance. (It's a new Twin-T VCF, designed especially to be aggressive for bass sounds.)
Variable pulse width, plus a pulse width sweep.
Three-stage envelope controls (Attack knob / Decay knob / Sustain switch).
Wide detune range for tuning harmonic intervals, plus an octave switch for dropping on oscillator deeper into bass territory
LFO, tuned for great-sounding results, which can be routed to pitch or filter.
MIDI input via standard MIDI DIN port. (Compatible with iPad and iPhone using a compatible MIDI interface.)
MIDI control of all parameters, with the exception of (analog) filter resonance.
1/8″ audio output.
North American or European/UK power adapter included.
Fully open source hardware, released under a GPLv3 and Creative Commons BY-SA license. Modify the firmware if you choose via the onboard hack port; browse or fork us at GitHub.
About MeeBlip
MeeBlip is a collaboration of Canadian electronics designer James Grahame of Blipsonic in Calgary, Canada and music website CDM (createdigitalmusic.com) in Berlin, Germany. It's an early success story in open source music hardware, producing tools popular with electronic musicians and hobbyists.
Official site: http://meeblip.com
Facebook page: https://www.facebook.com/meeblip
Twitter: https://twitter.com/meeblip