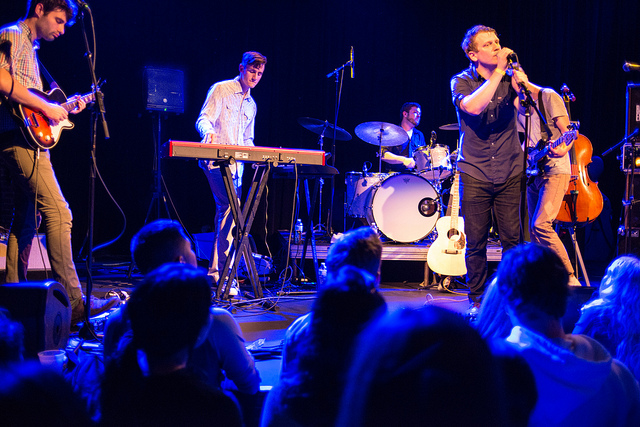 Hey Marseilles Takes Mackie on the Road
MikesGig is supported by its audience. When you purchase through links on our site, we may earn an affiliate commission. Read the full disclosure HERE.
Hey Marseilles is everything a great indie band should be – a bit different, slightly quirky, left-of-center, with irresistible songs that burrow their way into your brain, set up camp, and refuse to leave. The band's decidedly unconventional mix of folk and classical – or, as they themselves describe it, "folkestral" – has gained them an enthusiastic following from coast to coast and well beyond.
The band has been maintaining a busy touring schedule in support of their sophomore release, Lines We Trace. With a different venue in a different city almost every night, their touring setup needs to be mean, lean, flexible, and dependable. And Mackie's compact mixers and powered monitors are made for the job. As accordion/keyboardist Philip Kobernik explains, the Mackie 402VLZ4 four channel ultra-compact mixer is an intrinsic part of his eclectic rig.
"I go back and forth between a Roland SR7 digital accordian, a Nord Electro, and a Moog Sub Fatty," says Kobernik. "I send a mono feed from the Mackie mixer directly to the FOH engineer. Having the Mackie onstage with me allows me to control my own mix, and gives me a whole lot more control over my sound."
Onstage, a second mono output from the mixer feeds a Mackie DLM12 12-inch two-way powered loudspeaker. "It really packs a wallop for such a small, lightweight package," says Kobernik. "I use it mainly as my onstage monitor, but it's come in really handy in some other situations too. We've done a number of semi-acoustic gigs at record stores and radio stations, and I'll just plug my Nord Electro into the DLM12."
The DLM12's onboard EQ and DSP adds to its versatility, says Kobernik. "Onstage, I keep the signal pretty dry, and use mainly the effects in my keyboards. But when we do those smaller shows, it's great to be able to add a little EQ to boost the bottom end a bit, and maybe a touch of chorus or some reverb. It's really handy to have those effects, right on the back of the unit."
Catch Hey Marseilles when they come through your city. For more info on the band, including their music, videos, and touring schedule, visit heymarseilles.com